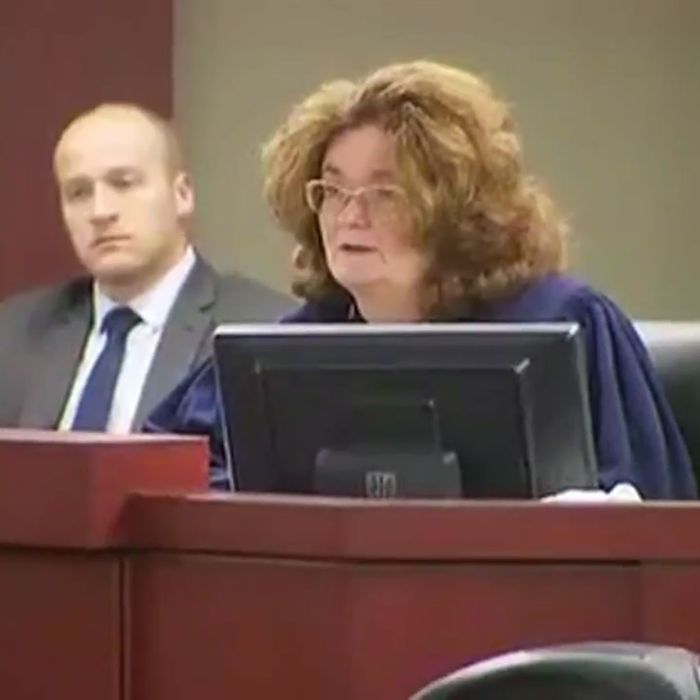 So many people came out to vote at the Cardenas Market in Clark County, Nevada, on Friday night that the polling site extended its hours to accommodate everyone who was waiting in line to cast a ballot.
Some might see this fact as a testament to the vitality of our democracy — but Donald Trump sees it as a testament to the very opposite.
On Tuesday, Trump's campaign sued the registrar of Clark County, Nevada, alleging that election officials had "intentionally coordinated with Democratic activists" to keep the polls open past their legally mandated closing time. The suit allowed that voters who were already in line at the site's 8 p.m. closing time did have a right to cast their ballots. However, the Trump campaign charges that officials allowed other voters — who had arrived after 8 p.m. — to make their voices heard, thereby making a mockery of the democratic process.
To allow for a thorough investigation of this allegation, the Trump campaign asked for the ballots and voting machines to be "impounded pending any legal challenges" to the results of the election.
At the hearing, the campaign's lawyer also expressed interest in finding out the identities of the poll workers who had enabled these alleged acts of excessive voting.
Judge Gloria Sturman expressed concern that complying with such a request would expose the poll workers to harassment. When the Trump campaign dismissed that concern, Sturman fired back, "Do you watch Twitter?"
Beyond that, Sturman concluded that the Trump campaign was requesting the preservation of evidence that Clark County already had a public obligation to preserve. Thus, the only thing a redundant court order would accomplish would be to make the names of poll workers publicly discoverable.
Trump and the Nevada GOP had already fomented outrage over the incident on Saturday, when the Republican nominee told supporters in Reno, "It's being reported that certain key Democratic polling locations in Clark County were kept open for hours and hours beyond closing time to bus and bring Democratic voters in … Folks, it's a rigged system. It's a rigged system and we're going to beat it."

The chairman of Nevada's Republican Party, Michael McDonald, was less subtle in his demagoguery.
"Last night in Clark County, they kept a poll open 'til 10 o'clock so that a certain group could vote," McDonald said at the same rally. "Yeah, you feel free right now? You think this is a free and easy election? That's why it's important."

(The implicit answer here was supposed to be no. But many Americans would likely answer in the affirmative if asked, "Does it make you feel free knowing that county workers and volunteers care enough about democratic participation to work late to help more voters have their voices heard?")
While the Trump campaign has produced no evidence that poll workers were colluding with "Democratic activists," his complaint may be more ill-spirited than it is baseless.
Clark County spokesperson Dan Kulin told the Associated Press that it is the county's official policy when "there's a line [as] closing time comes" to "keep processing voters until there's no more line," even if some of those voters arrived after the initial cutoff time.
"We're flexible because we want people to vote," Kulin explains.
But Trump is inflexible because he doesn't want people to vote. At least not certain people. And he may have the letter of the law on his side. Per the Nevada Revised Statutes (N.R.S.) § 293.305:
If at the hour of closing the polls there are any registered voters waiting to vote, the doors of the polling place must be closed after all such voters have been admitted to the polling place. Voting must continue until those voters have voted.
Still, it's not actually clear whether anyone who voted Friday night at the Cardenas Market arrived after 8 p.m.

Regardless, it's not a great look for a candidate to spend Election Day trying to find legal pretenses for blocking votes. Or says arch-liberal Frank Luntz.
Meanwhile, in another sign of the Trump campaign's confidence, the GOP nominee informed Fox News that voting machines across the country were switching Republican votes to Democratic ones.
Later, Trump reiterated his faith in his campaign, by sharing this misreading of a CNN article.