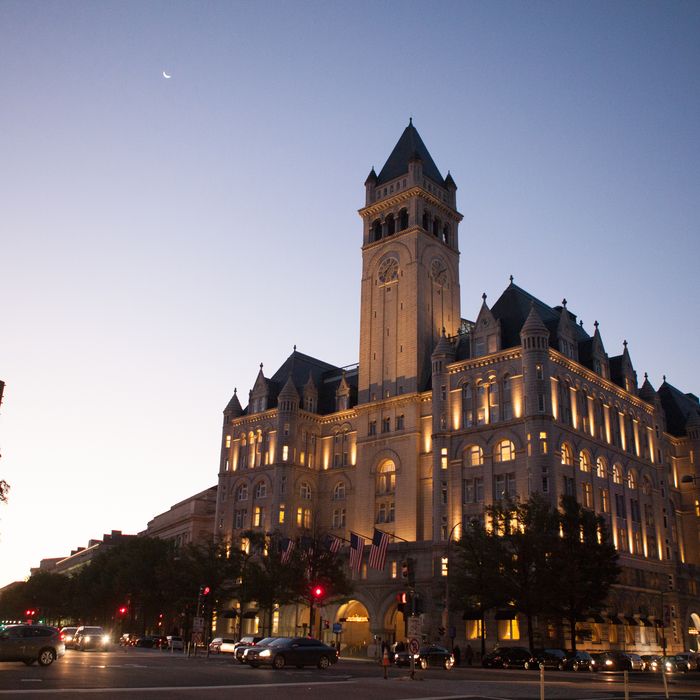 Tax dodge by twilight.
Photo: Cheriss May/NurPhoto via Getty Images
Donald Trump is suing Washington, D.C., and you probably won't be shocked to learn why: to avoid paying taxes.
This is actually the second time that Trump — technically Trump Post Office LLC, an LLC owned by Trump and his children — has sued D.C. over the same incident. It all centers around the Trump International Hotel located in the Old Post Office Building — the hotel Trump mentioned repeatedly on the campaign trail as a sign of his business acumen.
Trump has long claimed that the district overtaxed the hotel.
Trump's lawyers say that this year's $1.7 million tax bill was too high because, for part of the year, the hotel was still under construction. The city claims that the lease for the property — which Trump Post Office LLC rents from the U.S. General Services Administration — is worth $91 million. The Trumps say it is only worth $28 million.
The first suit the LLC filed was tossed out last month.
The hotel has stood mostly empty since completion thanks in large part to the fact that rooms at the Trump International Hotel cost more than three times as much as rooms at comparable properties. Henry Grabar, writing for Salon, speculates that the hotel may fill up come January as politicos book the overpriced rooms as a way to curry favor with the president.
Soon this will be much less of a headache for Trump. As president he will be able to appoint the head of the General Services Administration, and that appointee will negotiate future leases for the property with the new heads of Trump's companies: his children.