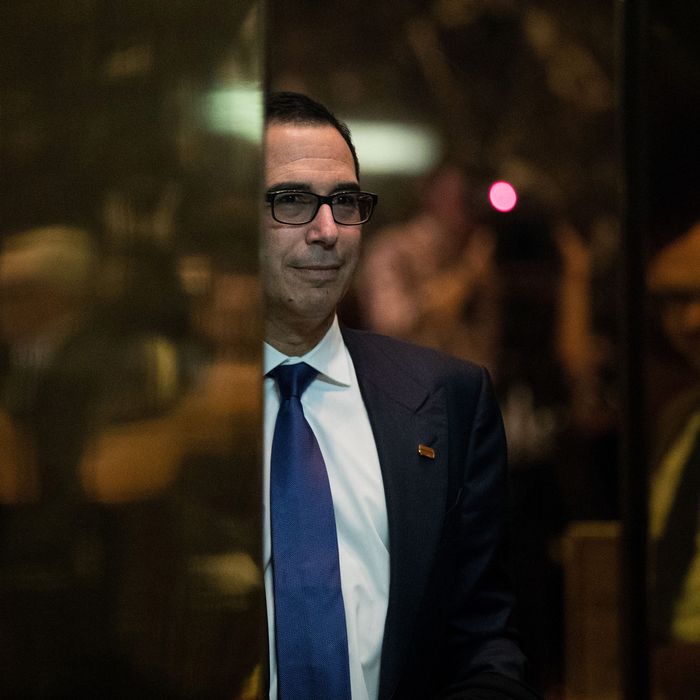 Mnuchin.
Photo: Drew Angerer/Getty Images
In Donald Trump's final campaign ad, the GOP standard-bearer informed America that "those who control the levers of power in Washington" do not "have your good in mind," as a sign reading Wall St. flickered across the screen. Moments later, the chief executive of Goldman Sachs appeared, serving as an embodiment of the global elite that has "robbed our working class."
On Tuesday, Trump named Steve Mnuchin — a former Goldman Sachs partner who is the son of a former Goldman Sachs partner — as his pick for Treasury secretary, according to the New York Times.
Mnuchin is a white, Ivy League–educated career financier with no experience in government, which makes him extremely qualified to be an American Treasury secretary.
Following his time at Goldman Sachs, Mnuchin founded his own hedge fund, Dune Capital Management, which he named after the dunes near his house in the Hamptons. Mnuchin went on to become a big-time Hollywood investor, helping to bankroll films like X-Men and Avatar.
He has known Trump for several years, and became the mogul's campaign chairman last spring.
Also on Tuesday, NBC News reported that Trump will appoint billionaire investor Wilbur Ross to head the Commerce Department.
Keep draining that swamp.