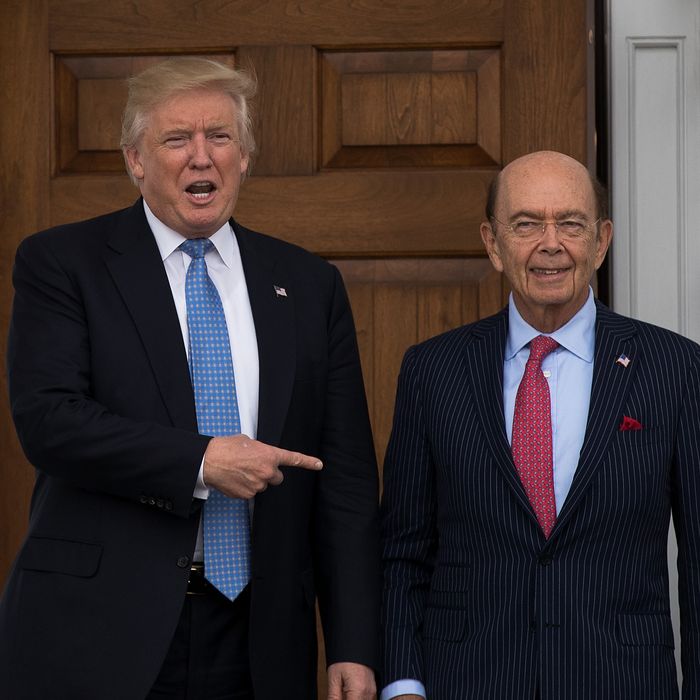 President-elect Donald Trump and investor Wilbur Ross pose for a photo following their meeting at Trump International Golf Club, November 20, 2016, in Bedminster Township, New Jersey.
Photo: Drew Angerer/Getty Images
The "King of Bankruptcy" is likely going to become the United States secretary of Commerce. President-elect Donald Trump is expected to pick billionaire investor Wilbur Ross, a businessman who made his money and got the nickname buying up fledgling companies in distressed industries such as steel, coal, and textiles.
Ross, who's 78 and worth an estimated $3 billion, donated bigly to the Trump campaign and advised the GOP presidential candidate on economic policy, helping to shape his populist message. Ross shares Trump's antipathy to the United States' trade deals, including the now-dead Trans-Pacific Partnership. Ross has also been critical of China, and, as Commerce secretary, he'll potentially be in charge of overseeing trade disputes with the country. Ross has also advocated slashing the corporate tax rate and restricting regulations, particularly in the energy sector. According to The Wall Street Journal, Ross has reportedly said he will divest his investment if he joins the Trump administration, effectively ending his business career.
Trump's billionaire Commerce pick is in keeping with recent tradition. Penny Pritzker, the current Commerce secretary, is also a billionaire businesswoman, and former finance chair of Barack Obama's 2008 presidential campaign. But considering Pritzker was a key player in the formation of TPP, a potential Ross Commerce Department is already shaping up to be vastly different.
Another superrich, conservative businessman will likely join the Commerce team as deputy Commerce secretary: Todd Ricketts, son of TD Ameritrade founder Joe Ricketts and Cubs co-owner. The Ricketts family (with the exception of Laura, Todd's sister) are long-time Republican donors, though Todd and the rest of the clan initially opposed Trump and forked over millions to defeat Trump in the primaries. (Todd Ricketts supported also-ran Governor Scott Walker of Wisconsin.)
But in the fall, Joe Ricketts did an about-face and donated a reported $1 million to pro-Trump super-PACs, and Todd Ricketts helped raise millions to help elect the candidate — which apparently smoothed things over between the two camps. Of course, if the rumors are true, Ricketts may not be the only NeverTrump-er to find his way into the new administration.