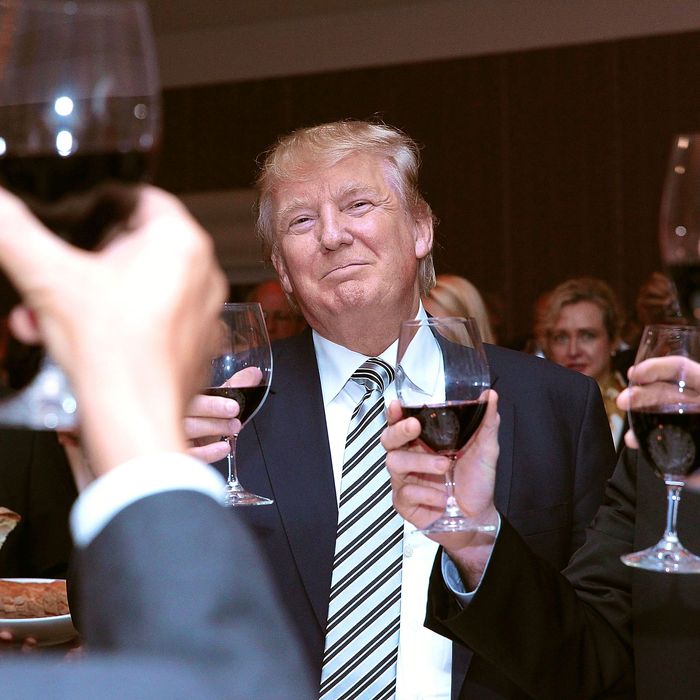 Look at the guy with the bread.
Photo: Paul Morigi/Getty Images
Donald Trump supporters flooding Washington for January's inauguration will have the rare opportunity to enjoy an elegant, candlelit dinner with the soon-to-be president, and all it will cost them is $1 million. According to a document detailing the benefits of donating to Trump's inauguration committee, which the Washington Post obtained, seven-figure donors will also receive:
… an exclusive lunch "with select Cabinet appointees and House and Senate leadership," four tickets to "an intimate dinner" with the Pences, eight tickets to a lunch with "the ladies of the first families," eight tickets and premier access to the inaugural ball and priority booking at "Premier Inaugural Hotel(s)."
The "Premier Inaugural Hotel(s)" remains unnamed in the document, but given the stipulation that the rooms be at the donors' "own expense" and the four-night minimum stay, it's not hard to guess which hotel we're talking about.
Those who can't spring for the million-dollar package but would still like to use their money to buy influence can pony up $100,000 in exchange for two tickets to "an intimate policy discussion and dinner with select Cabinet appointees."
While the practice of lavishing wealthy donors with exclusive perks during inauguration week is nothing new, it sure makes Trump look like a hypocrite. The man just spent months railing about Hillary Clinton for selling access to the Clinton Foundation and pledging to drain the swamp. Instead, he's charging the alligators to join him in the mud for a frogs-leg dinner.