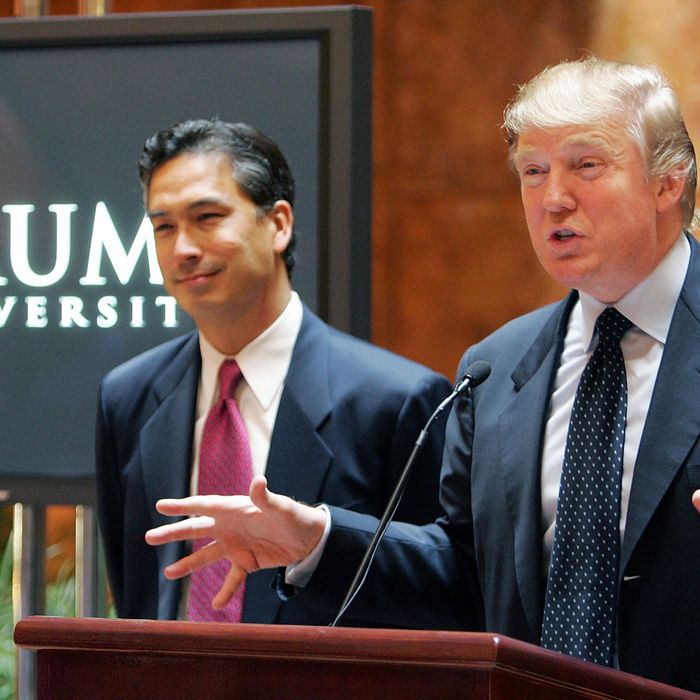 Where it all began.
Photo: Mario Tama/Getty Images
Donald Trump will not use charitable funds raised by his foundation to pay off a recent $25 million settlement related to fraud lawsuits against Trump University.
News broke on Friday that Trump had agreed to pay off three separate lawsuits relating to the controversial "university."
During his campaign, it was discovered that Trump had used funds raised by his charitable organization, the Donald J. Trump Foundation, to settle lawsuits against him and his companies. But on Monday, Trump Organization general counsel Alan Garten wrote to the New York attorney general's office promising that his client would not use any charitable funds to settle the cases. "No part of the funding of my clients' settlement of the New York Attorney General Action or the California Actions will come from any charitable foundation or other charitable entity," Garten said.
It has since emerged that the attorney general insisted on the guarantee in light of Trump's past activities. Amy Spitalnick, a spokeswoman for the state attorney general, confirmed that "given Mr. Trump's reported history of using his charity's money to fund his and his businesses' legal settlements, we demanded written assurance that the Trump University settlement would not be paid for by any charitable entity."
During his campaign Trump would often boast about how he never settled lawsuits, and he vociferously defended Trump University, calling it "beautiful" and "wonderful." In light of his recent decision to settle, Trump took to Twitter to blame the settlement on the inconvenience of assuming the presidency of the United States.