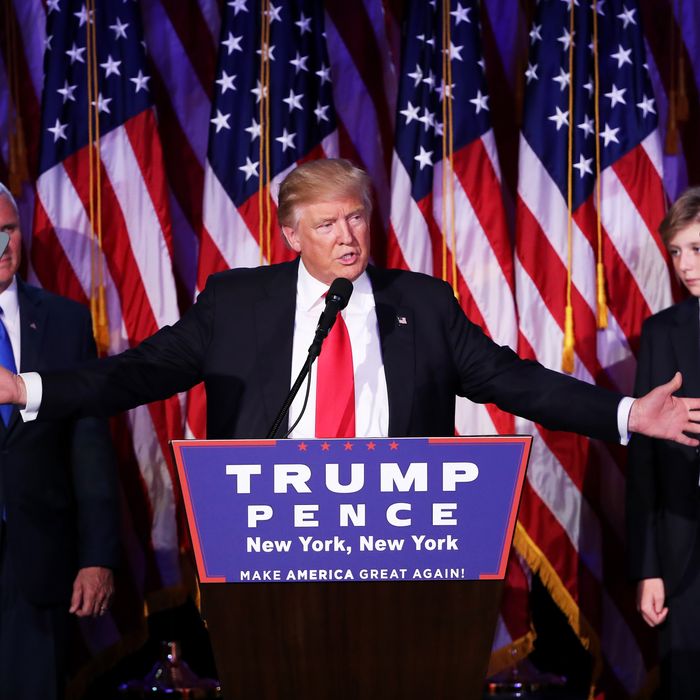 Photo: Mark Wilson/Getty Images
One of the big questions heading into Tuesday night was whether Donald Trump would actually concede to Hillary Clinton. Around 3 a.m. on Wednesday morning, he took the stage at the Hilton Midtown Manhattan to chants of "USA! USA! USA!" as the president-elect.
"Sorry to keep you waiting, complicated business, complicated business," Trump said, explaining that he'd just received a call from "Secretary Clinton." Hours earlier, Clinton campaign chairman John Podesta told the crowd gathered for her victory party at the Javits Center that they would not be conceding overnight, as votes were still being counted.
"She is not done yet!" Podesta proclaimed. Yet, moments before Trump's speech, CNN confirmed that Clinton had called Trump to say it's over.
Trump has literally called Clinton the devil, and his supporters were chanting "lock her up" shortly before he took the stage. However, he had only kind words for his opponent. "She congratulated us — it's about us — on our victory, and I congratulated her and her family on a very, very hard-fought campaign," Trump said. "She fought very hard. Hillary has worked very long and very hard over a long period of time and we owe her a major debt of gratitude for her service to our country. I mean that very seriously."
This was not the Trump who reportedly mused about funding a super-pac to exact vengeance on his enemies after the election. "Now it's time for America to bind the wounds of division; have to get together," he said. "To all Republicans and Democrats and independents across this nation, I say it is time for us to come together as one united people. It's time."
"I pledge to every citizen of our land that I will be president for all Americans — and this is so important to me," he continued. "For those who have chosen not to support me, of which there were a few, I'm reaching out to you for your guidance and your help so we can work together and unite our great country."
While Trump won the White House by performing exceptionally well with white voters, he described his campaign as a "movement of Americans from all races, religions, backgrounds, and beliefs." He quickly pivoted back to the core theme emblazoned on his hats. "Nothing we want for our future is beyond our reach. America will no longer settle for anything less than the best," he said. "We must reclaim our country's destiny and dream big and bold and daring. We have to do that. We're going to dream of things for our country and beautiful things and successful things once again."
Then he put a softer spin on his nationalist message. "I want to tell the world community that while we will always put America's interests first, we will deal fairly with everyone — all people and all other nations. We will seek common ground, not hostility, partnership, not conflict."
Trump concluded by thanking his family, his campaign staffers, and the surrogates who stuck with him throughout his chaotic campaign: Rudy Giuliani, Chris Christie, Jeff Sessions, Mike Huckabee, Ben Carson, and retired Army Lieutenant General Michael Flynn. He invited one "unbelievable star" onstage: Republican National Committee chairman Reince Priebus. Urged to address the crowd, Priebus said: "Ladies and gentleman, the next president of the United States: Donald Trump."
"I look very much forward to being your president, and hopefully at the end of two years or three years or four years, or maybe even eight years," Trump paused for applause, "you will say, so many of you worked so hard for us, but you will say that — you will say that that was something that you really were very proud to do."
"We're going to get to work immediately for the American people," he said. "And we're going to be doing a job that hopefully you will be so proud of your president. You'll be so proud."
Then, as Trump stepped away from the podium, a familiar song from his rallies began to play: the Rolling Stones' "You Can't Always Get What You Want."