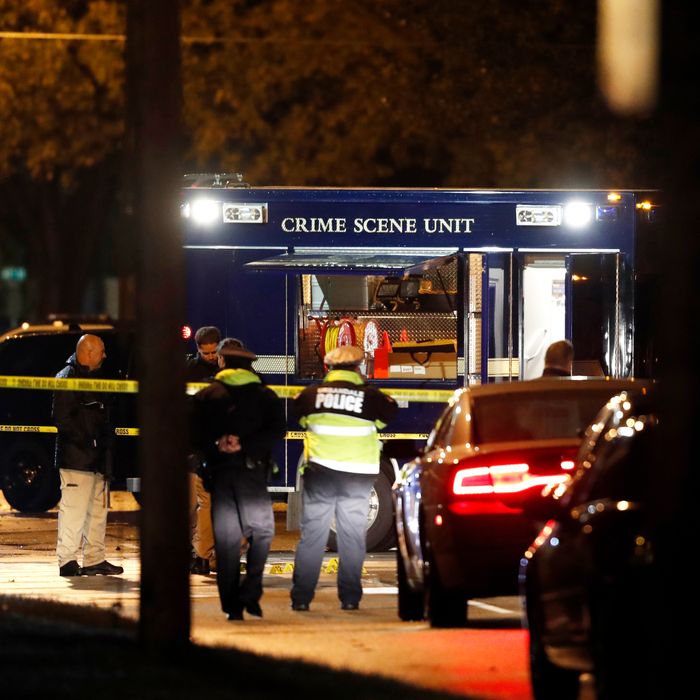 Law-enforcement officials investigate at the scene of a shooting, Wednesday, November 2, 2016, in Urbandale, Iowa.
Photo: Charlie Neibergall/AP
Police have reportedly arrested a suspect in the murders of two officers overnight. The alleged attacker has been identified as Scott Michael Greene, a 46-year-old white male from Urbandale, a suburb of Des Moines, Iowa.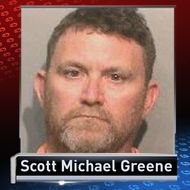 Earlier, police warned of a "clear and present danger" to officers after two cops were shot and killed in their patrol cars early Wednesday in the Des Moines metro area. Authorities described both deaths as "ambush-style attacks."
Officials launched a manhunt and warned the public that Greene was armed and dangerous before he was taken into custody around 9 a.m. local time. According to police officials, Greene was on foot when he flagged down a Department of Natural Resources employee while walking on a trail in Dallas County, the county adjacent to Polk County, where Des Moines is located. Greene reportedly pulled out his ID to show the employee and instructed him to call 911. Greene surrendered without incident. Des Moines police did not say what made them suspect Greene, and have not speculated publicly on his motive.
According to police, the two officers were shot in separate incidents. Urbandale cops, responding to reports of gunshots shortly after 1 a.m. local time Wednesday, found one member of the force dead in his patrol car near Urbandale High School. Less than a half-hour later, and about a five-minute drive away from the first crime scene, another police officer was discovered shot in his vehicle at an intersection in Des Moines. He was pronounced dead at the hospital.
The two officers killed have been identified as Urbandale police officer Justin Martin, who was apparently shot outside the high school, and 38-year-old Des Moines sergeant Anthony Beminio, the second victim found. Martin was a rookie, having joined the Urbandale force in 2015. Beminio is a more than ten-year veteran of the department.

Sergeant Paul Parizek, a spokesperson for the Des Moines Police Department, told reporters both officers were sitting in their cars when the suspect fired. It did not appear, he added, "that there was any interaction between these officers and the coward who shot them." Officers on the force are now patrolling in pairs as a safety precaution.
The suspect, Greene, had a criminal record, including an April 2014 encounter with police where he refused officers' attempts to pat him down near an Urbandale apartment complex, reports the Des Moines Register. The responding officer described Greene as "noncompliant" and "hostile" in the incident report. What called police to the scene that day is unclear, but two days later Greene was charged with first-degree harassment after shouting a racial slur and threatening to kill a man at that same location. He was reportedly sentenced to one year of probation.

Police are also investigating whether an October 14 incident at Urbandale High School — right where Officer Martin was fatally shot — possibly involved the suspect. According to the Washington Post, a YouTube user named Scott Greene uploaded a video last month entitled "Police Abuse, Civil Rights Violation at Urbandale High School." The video runs about 11 minutes long and is apparently recorded by a man talking to police officers at a football stadium at the high school. The cops ask the man, who is recording, to leave the school property. The man repeats that he was assaulted and had his property stolen — "almost like a mugging." The man recording the tape is escorted off the grounds, and additional officers eventually show up. "Are you here watching a student, or did you just come to fly this flag tonight?" a female officer asks man.
"Well, I was using my constitutional rights," replies the man who is apparently recording.
After a quick back-and-forth, the officer explains: "You have to understand that in the current social climate that we're in when you fly a Confederate flag, standing in front of several African-American people, that's going to cause a disturbance." An image of that flag, which appears to have been returned to the man, is captured toward the end of the clip.
The murders of these Iowa officers come after a tense summer where police came under siege from sniper-style attackers in Dallas and Baton Rouge. In December 2014, two NYPD cops were ambushed and fatally shot while sitting in their patrol car in Brooklyn.
This post has been updated throughout.