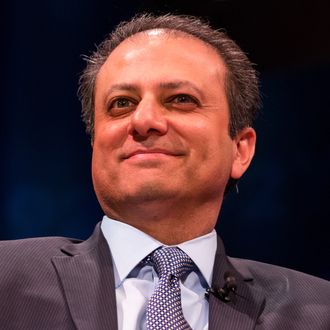 Photo: Michael Nagle/Bloomberg via Getty Images
U.S. Attorney for the Southern District of New York Preet Bharara may be one of the few high-profile Obama appointees to survive the Trump transition. Bharara, known as a corruption-buster on Wall Street and in Albany, will reportedly keep his job after a meeting with the president-elect in Trump Tower on the anniversary of his conviction of former state assemblyman Sheldon Silver.
Bharara told reporters that he and Trump talked about "whether or not I'd be prepared to stay on as the United States attorney to do the work as we have done it, independently, without fear or favor for the last seven years."
He added: "We had a good meeting. I said I would absolutely consider staying on. I agreed to stay on."
New York Senator Chuck Schumer took some of the credit for suggesting to Trump that Bharara stay on, and even set them up by providing PEOTUS with the U.S. Attorney's digits, reports the Daily News. A Trump campaign official previously told the Daily News that Trump had "high regard" for Bharara, and that the president-elect wanted to bring his approach to Washington. The continued torment of New York Democrats who said some not-nice things about him, Governor Andrew Cuomo and Mayor Bill de Blasio, is probably just an added bonus.