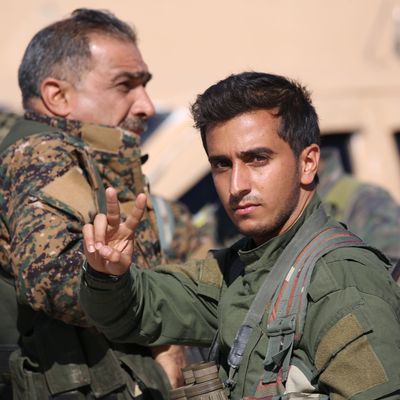 A member of the SDF flashes a victory sign in the town of Ain Issa, some 50 km north of Raqqa.
Photo: Delil Souleiman/AFP/Getty Images
The U.S.-backed Syria Democratic Forces announced on Sunday that they have begun an operation to capture and liberate the ISIS-controlled Syrian city of Raqqa, which is the de-facto capital of the militant group's self-proclaimed caliphate in Syria and Iraq. The BBC reports that the operation will seek to control the surrounding countryside and isolate Raqqa in preparation for an assault on the city. The SDF, which is comprised of Kurdish and ethnic Arab and Turkmen militias, will be supported by Western air power. It is not yet clear what, if any, involvement the Turkish military or their Free Syrian Army allies will have in the coming campaign, due to intensifying tensions between the two coalitions. So far, it seems that the U.S. and its allies are deliberately proceeding without Turkey's support or permission.
The advance on Raqqa also comes as ISIS's most significant stronghold, the Iraqi city of Mosul, is already under siege by U.S. and Iran-backed Iraqi, Kurdish, and Shia-militia forces to the east. As Reuters points out, the offensive on Raqqa has long been expected, as Western officials have previously indicated that the assault on the city should coincide with the campaign to retake Mosul.
No precise timetable for the beginning of the assault on Raqqa itself has been given, but the SDF has asked civilians in the mostly Arab city to avoid areas where ISIS fighters are present or to evacuate from ISIS-controlled territory altogether. A U.S. military spokesperson in Baghdad told the New York Times that "it may be some time" before the 30-40,000 SDF fighters will reach Raqqa, and that the U.S.-led coalition will work to train more forces in preparation for the attack on the city itself. In the meantime, U.S. warplanes will continue to target ISIS in and outside of the city in support of the offensive.