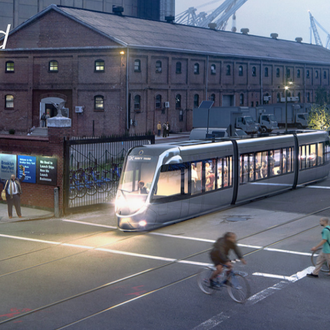 Last February, Mayor Bill de Blasio proposed a streetcar line to run along the waterfront in Queens and Brooklyn, potentially connecting Astoria to Sunset Park and sparing some souls from the G train. The $2.5 billion plan for the BQX has been percolating ever since, with the appointment of a streetcar czar and officials hosting community meetings this spring and summer. Now, the de Blasio administration has released some new details about the plan, including potential routes for the transportation project.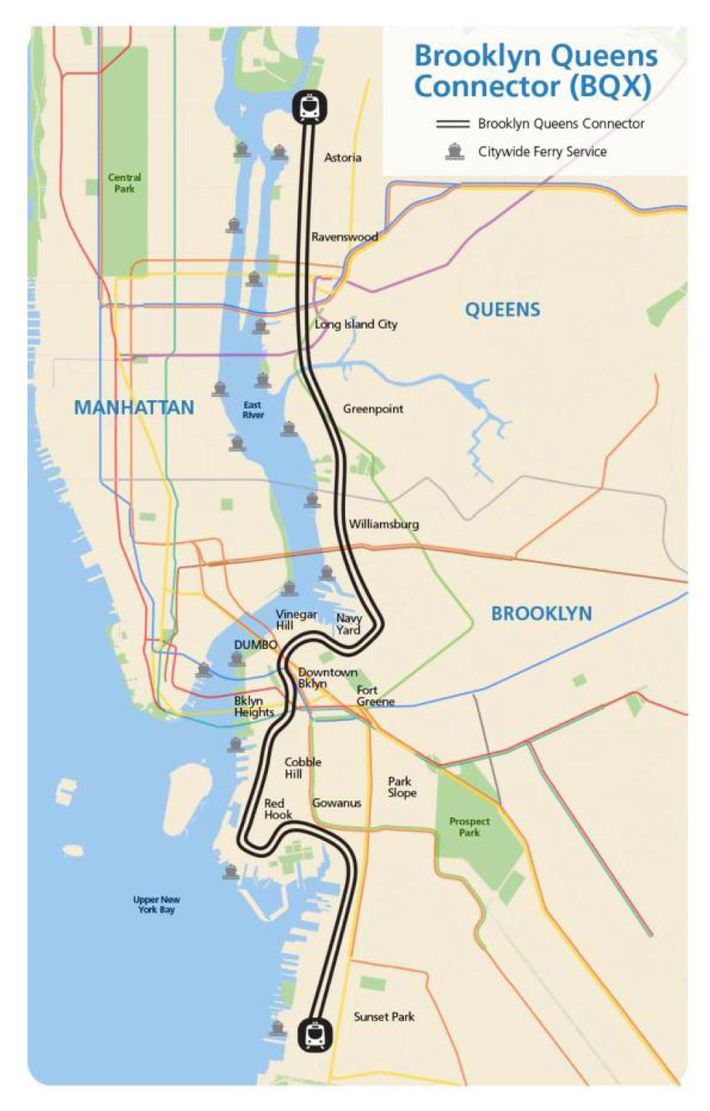 The above is the general route of the BQX, which would ostensibly help commuters link to other transit hubs along the subway, bus, and ferry lines. The proposal calls for 30 stops along the streetcar route, stretching from Sunset Park and weaving up to Red Hook and over the Gowanus into downtown Brooklyn, and heading through Greenpoint and Williamsburg to Long Island City and Astoria. The fare would be pegged to that of a single-ride subway ($2.75, right now), and trolleys would pull up to stations between every five to ten minutes. Also, if this sounds sort of like the bus, a reminder of the big perk: The streetcars would have their own dedicated lane.
The maps of the detailed possible routes are available here, in the new report, which notes the pros and cons of running a trolley down the particular streets. For example, in Williamsburg, the plan suggests Bedford Avenue, Berry Street, Kent Avenue, and Wythe Avenue all as potential options. Bedford Avenue, for example, would offer the benefit of an L train connection, but that takes the streetcar farther away from the waterfront development.
Officials are scheduling more community sessions to get feedback from residents this fall. The public-approval process and environmental review could start as early as 2017; construction, if it goes forward, could begin in 2019. By 2024, you could be cruising down the Brooklyn-Queens coast in a Streetcar Named de Blasio, a joke you'll be very sick of hearing by then.