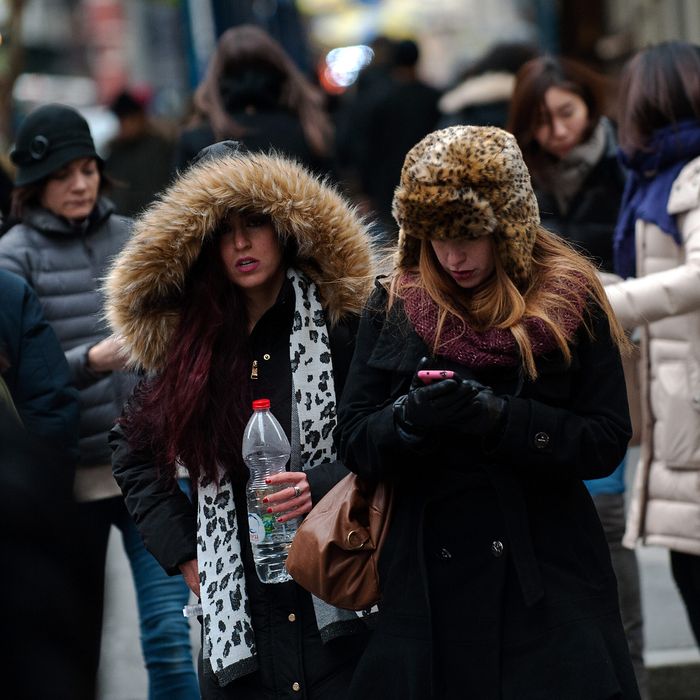 So it begins.
Photo: Bryan Thomas/Getty Images
Winter is still officially a month away, but New York — and a huge chunk of the northern U.S. — is getting a chilly preview of what's to come. Snowflakes were spotted Monday in the city, accompanied by wind gusts between 30 and 40 miles an hour in some parts in the city and the surrounding suburbs, which put the "real feel" temperature at or below freezing.
These chilly conditions aren't going away anytime soon. The National Weather Service is warning of wind gusts up to 50 miles per hour Monday night, with wind chill below freezing — so it's going to feel like 25 degrees overnight and heading out the door Tuesday morning. (Which sure, isn't so terrible, but considering it was in the 60s last week, this will feel quite unpleasant.)
The rest of the week will gradually warm up to to reach highs near the 50s over the Thanksgiving holiday (there's a chance of rain for the parade). But really, New York City can't complain because upstate New York is getting pummeled with those heavy winds and the first serious winter snow. The lake-effect storm has dumped close to two feet in parts of upstate, and it's expected to keep snowing until early Tuesday morning. Some places have already neared three feet:
No thanks.