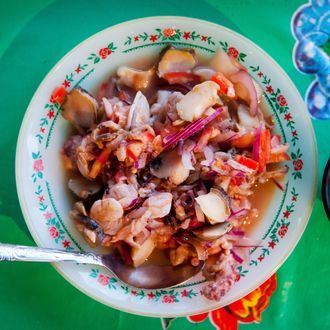 Photo: Jeremy Woodhouse/Holly Wilmeth/Getty Images/Blend Images
Mariza Reulas, a single mother of six from California, is facing jail time after being cited by San Joaquin County for two misdemeanors. Her crime? Selling homemade food through a Facebook group. Ruelas, along with several others, were busted following a yearlong sting investigation of food sales via Facebook. (Unlike those who prepare food commercially, people in the Facebook group did not have government permits to sell their dishes.) Ruelas joined the Facebook group, 209 Food Spot, several years ago, when she needed a birthday cake for her daughter's birthday, the Washington Post reports.
Over the past two years, Ruelas says she used the group to exchange food about once per month to "those who requested it." She was caught when one of the people requesting ceviche turned out to be an undercover investigator. "I don't write the laws, I enforce them. And the legislature has felt that this is a crime," San Joaquin County Deputy District Attorney Kelly McDaniel told Fox 40 regarding the fines and possible jail time Ruelas is facing. "Food prepared in a facility that does not inspect it creates a risk to the public."
Ruelas, who was cited for both running a food facility and operating a business without a permit, turned down a plea deal of 80 hours of community service, a $235 fine, and three years on probation. (Everyone else cited was offered a deal of 40 hours, one year, and $235, the Washington Post also reports.) Instead, she'll face trial where she could be sentenced to a year in jail.