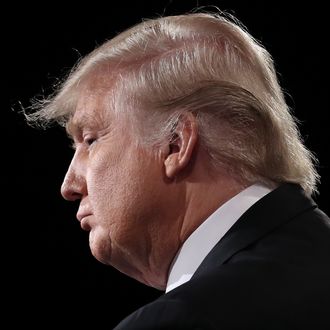 Photo: AFP/AFP/Getty Images
The woman who accused Donald Trump of raping her in 1994, when she was a 13-year-old aspiring model, has voluntarily dismissed her lawsuit, according to Jezebel. The accuser, who was identified as "Jane Doe" in the suit, was set to appear at a press conference in Los Angeles on Wednesday, but the conference was canceled at the last minute.
The suit alleged that, during parties at the home of disgraced financier Jeffrey Epstein, she was raped by Donald Trump on several occasions. She accused Epstein, who is a convicted pedophile, of raping her as well.
This was the third suit filed over the same allegations. The first suit was filed in California in April by a person using the name "Katie Johnson," who was acting without an attorney. It was dismissed for failure to properly state a claim. The second suit was voluntarily dismissed in September, then refiled with an affidavit from "Tiffany Doe," who said she witnessed the rape.
Despite the explosive allegations, the story was never covered widely in the media (though, you probably saw references to it on social media). As the Huffington Post reported, that was likely because the accuser was anonymous and outlets that pursued the story — including Jezebel, The Guardian and the Daily Beast — uncovered confusing details and were unsure of what to make of the story.
Lisa Bloom, the daughter of Gloria Allred, said on Wednesday that Jane Doe called off the press conference after receiving death threats. "She has decided she is too afraid to show her face … She is in terrible fear," Bloom said. She commented via Facebook on Friday night: