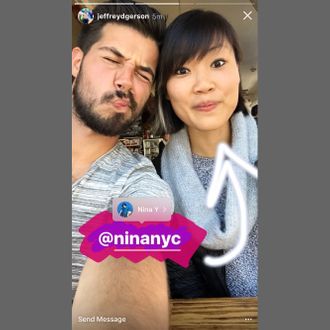 Earlier this year, Instagram rolled out Instagram Stories, an ephemeral photo- and video-sharing feature that felt like a carbon copy of Snapchat. But today, the app announced a new feature that sets it apart from its competitor. Users can now tag their friends from within a particular story, using their Instagram handles.
To use this new feature, just type the handle like you normally would to caption a picture or video in your Insta Story. "Mentioning people in stories works the same as it does in captions and comments," Instagram explained on its blog. "When you add text to your story, type '@' followed by a username and select the person you'd like to mention. Their username will appear underlined in your story. And when someone taps the mention, they'll see a pop-up that takes them to that profile." If someone tags you in their story, you'll receive a notification. If you don't follow them, the notification will go into your message requests.
Other new features from Instagram today include the ability to use Boomerang — Instagram's short-looping video app — directly within the app and new "See More Links" option. Verified accounts will now be able to embed links readers can swipe, directing viewers to other websites. All in, it's an exciting day for Instagram, which finally seems to be trying to differentiate itself from Snapchat.
Meanwhile, not to be outdone, Snapchat secretly started selling its smart glasses, Spectacles, today, from a single, mysterious vending machine in California.