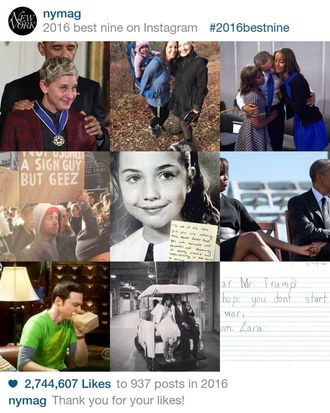 New York Magazine's 2016 best nine.
Photo: 2016bestnine
Think back to Instagram in December 2015. A simpler time, before algorithmic sorting where your feed was likely inundated with micro-collages, displaying people's most-liked photos from the past year, created with a web generator and shared using the hashtag #2015BestNine. Your friends did it. Kourtney Kardashian did it. Heck, you probably did it. And now, the generator is back for 2016.
To see what your 2016 looked like in Instagram pictures, head over to 2016BestNine. Type in your Instagram handle and click "GET." Like last year, you can also create a best-nine collage for any user with a public account. So if you're dying to know which of Taylor Swift's pictures were the most popular this year, you can do that, too. I'm imagining something with a cat or Swift wearing a Deadpool costume … or both.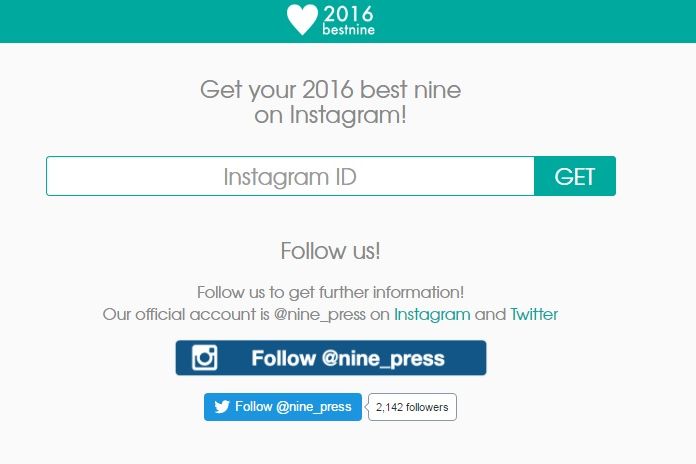 From there, the site will generate your collage (heads up, depending on site traffic it could take up to ten minutes to make yours, so be patient) and show you the number of total likes your photos received this year and a total count of your number of posts. You'll have the option to share the photo with or without these numbers, on Facebook and Twitter. To share on Instagram (with the hashtag #2016bestnine, if you're really looking to #engage) you'll have to save the image and post it from your phone.
No word from the Best Nine team on whether or not this year's generator will also be a feeder pool for a forthcoming dating app (yes, that really happened).