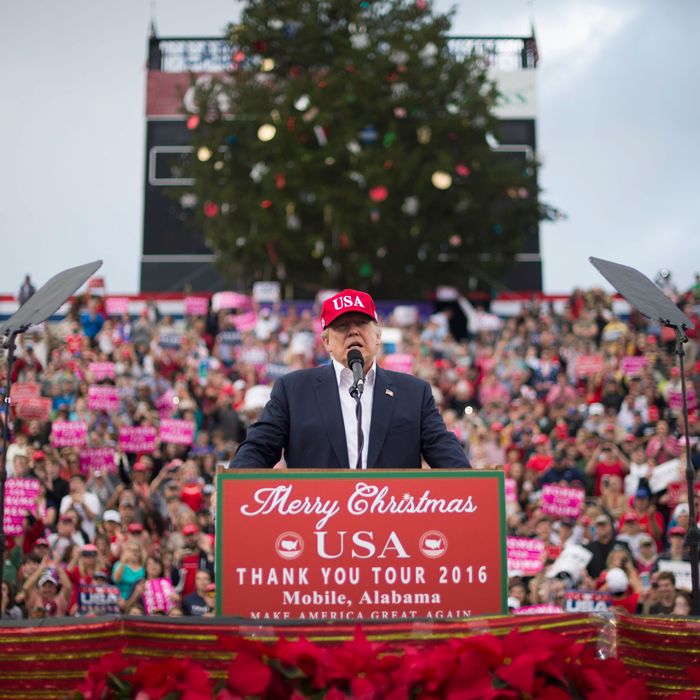 Photo: The Washington Post/The Washington Post/Getty Images
A doofus in the Mobile, Alabama, mayor's office is offering mea culpas for giving the orders to chop down a 50-foot tree from a public park so it could be used as a prop at the final rally on Donald Trump's "Thank You" tour.
Axed from its home in Public Safety Memorial Park, the towering cedar was transported about a mile to a football stadium, where it was erected by crane and adorned with oversized ornaments. It would block the scoreboard as Trump delivered his speech on Saturday. But before Trump could even arrived in town, the tree was creating controversy as residents began complaining to the mayor's office.
"The City has gone to great lengths to support the visit of the President-Elect," Colby Cooper, chief of staff for the city of Mobile, said Friday, before the event. "A Christmas Tree was needed and the City provided it."
By Sunday he changed his tune. "I now know that there are citizens who are upset and offended that a tree from a city park was used as part of the decorations for the event," he said. "I accept full responsibility for having this done. For this, I sincerely apologize. Going forward, I will be more sensitive to the spectrum of concerns regarding trees."
Cooper also said the city would repurpose the tree and that "many wonderful ideas" are under consideration, but probably not the ones people are suggesting to him on Twitter.