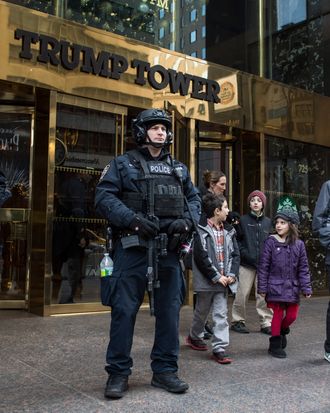 Not a toy.
Photo: The Washington Post/The Washington Post/Getty Images
A few misplaced Christmas presents threw Trump Tower's lobby into a panic on Tuesday afternoon. Following the discovery of an unattended backpack, police partially evacuated the building, with some chaos ensuing as people ran toward the exits.

By 5 p.m., the bomb squad had concluded that the bag was harmless, and people began trickling back into the building that houses the president-elect. Authorities have since confirmed that the backpack — abandoned near the entrance of Trump Tower's Niketown shop — was full of toys.
The tower's namesake was not in residence during the scare — Trump spent the holidays at his Mar-a-Lago estate in Florida — but many of his staff were. Soon after the "all clear" was given, Trump's press secretary, Sean Spicer, tweeted that officials were "back to work."
Thankfully, nobody was hurt in the evacuation, but the incident did give many quite a scare. On the upside, it provided a welcome opportunity for journalists to make "war on Christmas" jokes.