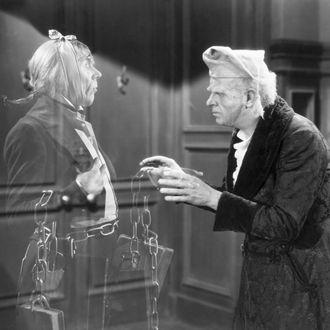 The spirit of Christmas or something.
Photo: Bettmann/MGM
This year's annual performance of A Christmas Carol at the Centerville Elementary School in Lancaster, Pennsylvania, was canceled for vastly different reasons depending on whom you ask.
Breitbart and Fox News both reported last week that the production was canceled over concerns regarding Tiny Tim's famous line "God bless us, everyone" — another salvo in the war on Christmas that Obummer and the Dumbocrats have supposedly been fighting for years. A local news report stated that complaints about the line (from sources unknown) are what led to reexamining how the play is done, but that they were not the reason for the cancellation. Ultimately, the school cited the hefty in-school time commitment.
Following those reports, Lancaster Online wrote that a Jewish family had "fled" their home after receiving threats and fearing retaliation for the play's cancellation. Other left-leaning sites also picked up the story of a Jewish family forced to flee the right-wing commentariat.
According to the Anti-Defamation League, however, the family had asked that their child be removed from the production, and not asked that it be canceled. Also, the family was gone because they were going on an already-planned vacation.
And furthermore, they had asked for their child to be removed from the play because of the aforementioned commitment. In a blog post from December 15, school principal Tom Kramer wrote:
One rumor we've been addressing is that one or two families influenced this decision. That's just not true. The instructional time issue was our primary concern. Alternative solutions were explored for offering the play differently, including the use of non-core instructional time, but it was decided by the building team to not go down this path. We also looked at having rehearsals after school hours, but, at this time, parents nor staff members have stepped forward to take advantage of this possibility.
Furthermore, the school district posted a lengthy FAQ this past Wednesday clarifying their position: "As Mr. Kramer worked with the 5th grade teaching team to understand what putting on the play entailed, it became clear that the teachers had concerns about committing roughly 20 hours of instructional time to something that is not part of the fifth grade curriculum."
Breitbart's report briefly mentions Kramer's concerns about instructional time at the end of the article. Fox News' does not as of now.
This whole thing is clearly a clusterfuck — an example of partisan news organizations, on both sides, attempting to wish a particular narrative into existence — but one thing it's not is "fake news." All of the initial reporting on this story came from established news organizations quoting people involved in the fracas. Certain parts were distorted, or misunderstood, and later corrected. But unlike the Moldovan teens pumping out Trump-themed fakery, they were not knowingly publishing wrong information. Next time we exhort Facebook to do more about fake news, remember that the only real answer to misleading, badly reported stories is more reporting.