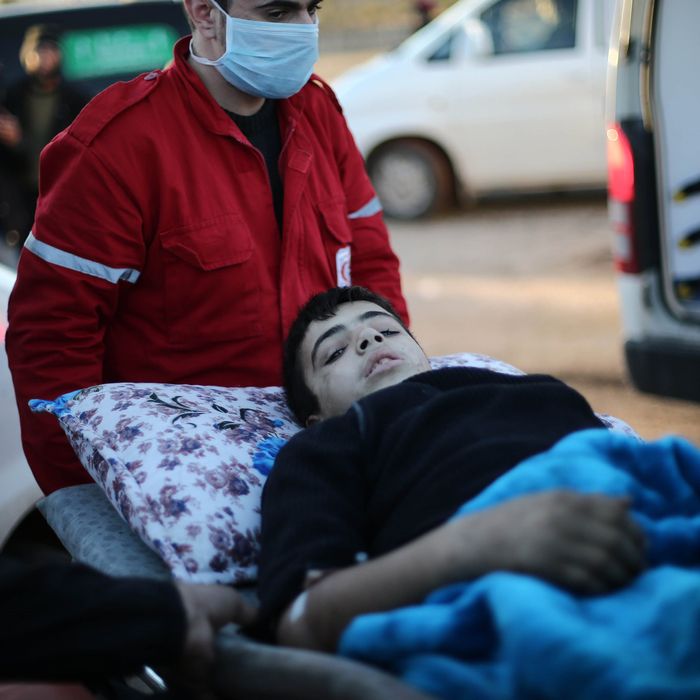 Evacuated wounded civilians arrive at a checkpoint in a rural area west of Aleppo, Syria, on December 15, 2016.
Photo: Ibrahim Erikan/Anadolu Agency/Getty Images
A cease-fire in eastern Aleppo now appears to be holding. About 3,000 people have been evacuated Thursday from what was the last foothold of rebel-held territory in the major Syrian city. Buses and ambulances will continue to cart civilians away, either to government-held areas, or to the Syrian rebels' territory outside the city in the province of Idlib, where rebel fighters are also supposed to take refuge, reports the New York Times. The United Nations estimates about 30,000 civilians must be evacuated in the coming days.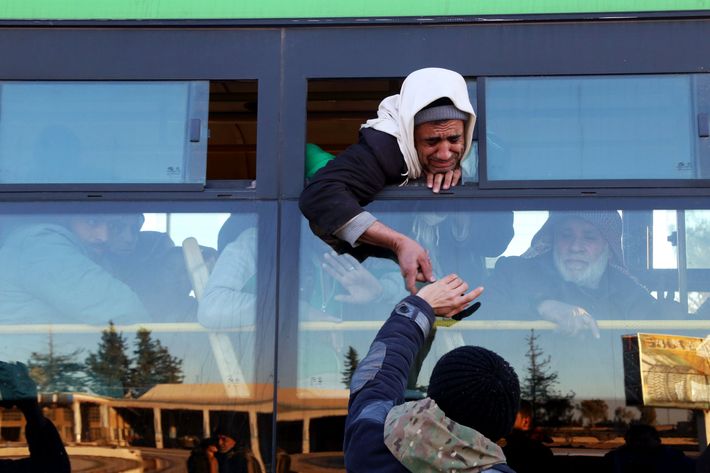 This was the second attempt to evacuate civilians after a first cease-fire deal, brokered by Russia and Turkey on Tuesday, derailed after fighting began anew in eastern Aleppo. Civilians had remained trapped in that shred of rebel territory — less than two square miles — as buses idled and then departed without passengers as bombs rained down once more. The Iranians — allies of Syrian President Bashar al-Assad — were reportedly the primary culprits behind the first deal's unraveling, whose militias physically blocked civilians and rebel fighters from evacuating on the buses Wednesday. The Iranians were allegedly insulted that Russia and Turkey didn't consult them in hashing out the agreement.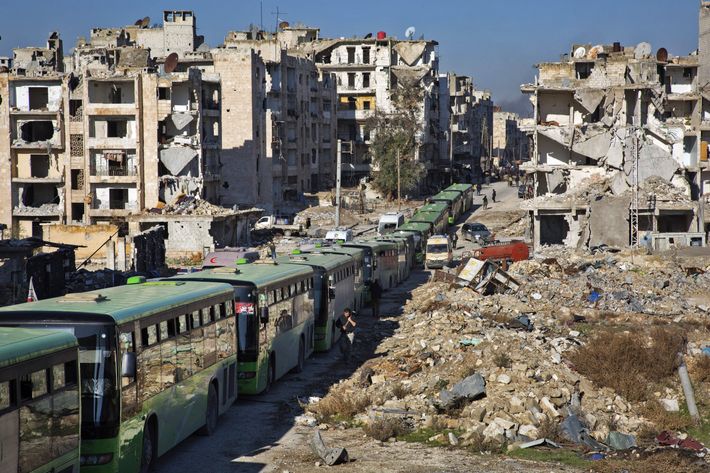 But the second deal appeared to be a go because concessions were made to the Iranians. Per the Guardian, the revised agreement included the evacuation of wounded people in two Shia villages and in the Idlib province, which are surrounded by rebels.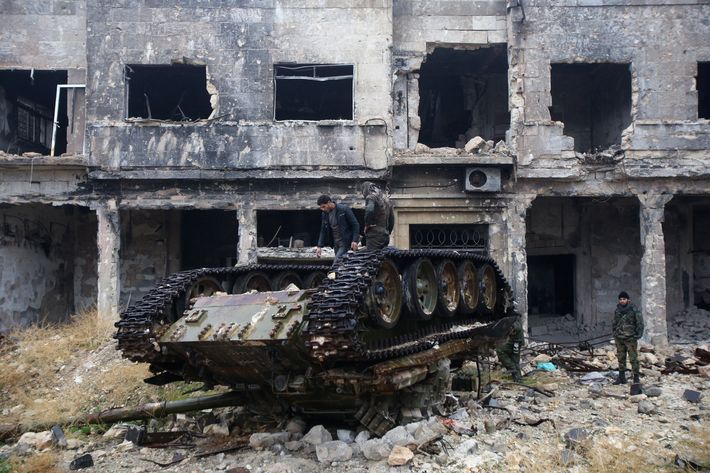 Still, reports of intermittent fighting trickled out during Thursday's evacuation, including one that suggested pro-government forces fired on a rescue convoy helping injured civilians, and at least one person was killed.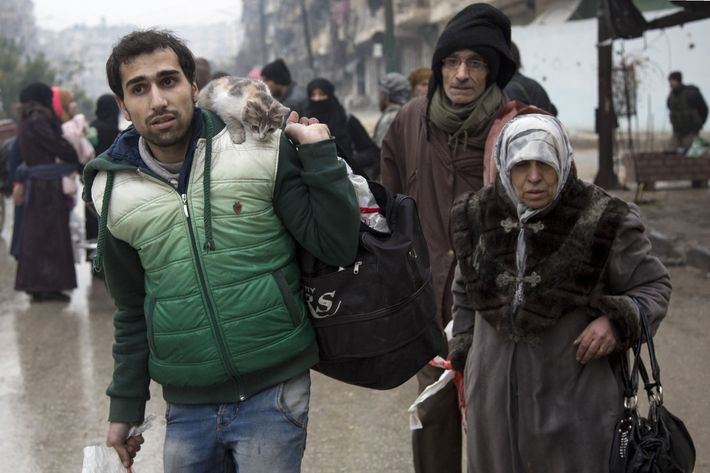 The operation, overall, marks a huge victory for Syrian President Bashar al-Assad, and he extolled the evacuation agreement. The city has been at odds and divided since the civil war broke out more than five years ago, but now Assad — with a lot of help from Russia and Iran-backed militias — has claimed that the city is back under his full control after an intense, weeks-long bombardment of eastern Aleppo. Assad celebrated in a video message, appearing to equate the retaking of Aleppo with birth of Jesus and the fall of the USSR, reports the Guardian. "What is happening today," he said, "is the writing of history."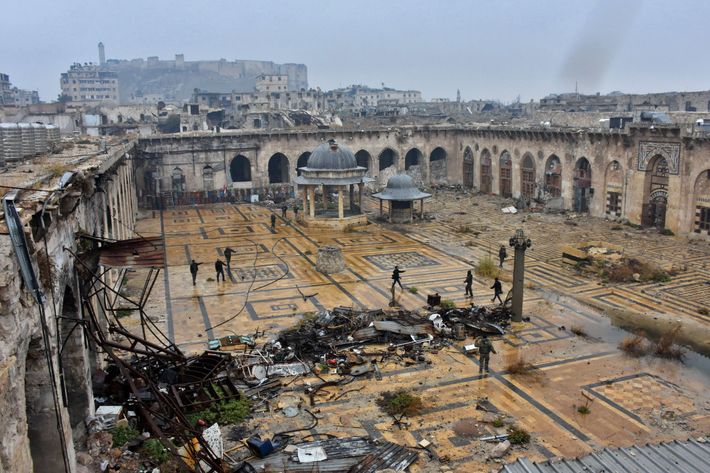 This is also a tremendous blow to the Syrian opposition. While the rebels retain some territory outside Aleppo, including in Idlib, holding on to control in part of the key city was of symbolic and strategic importance. And now that Assad feels like he's achieved his goals in Aleppo, it's likely he'll start moving in on the rebels in Idlib, where thousands are evacuating. (Though Assad, Russia, and company still have their hands full with ISIS, which recently recaptured the ancient city of Palmyra.) This cease-fire, after all, is narrow — it covers evacuations in eastern Aleppo — and while it may alter the course of the war, it does nothing to put a definitive end to it.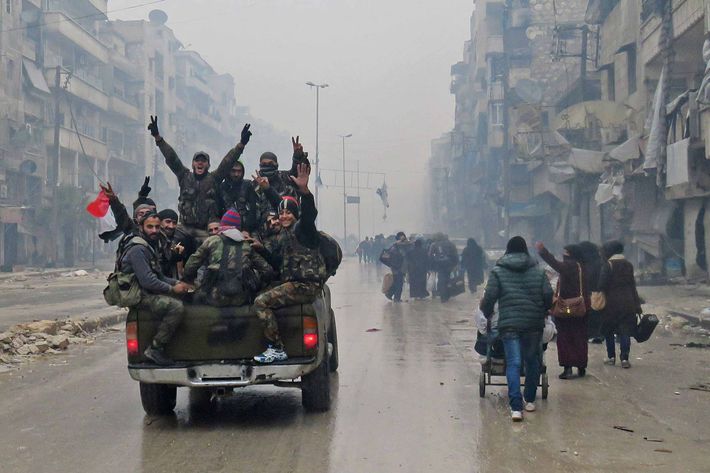 And the humanitarian crisis in eastern Aleppo is not yet over. Thousands of sick and wounded must still be evacuated. Concern also persists about egregious human-rights violations at the hands of pro-government forces. In the hours and days before the first cease-fire was announced, humanitarian agencies had sounded the alarm over the bloodshed of innocents in the last slice of rebel-held territory. Syrian pro-government forces reportedly went door to door, murdering people in cold blood. According to the United Nations, at least 82 civilians have been executed "on the spot" in their homes; others were gunned down as they ran away. Women and children are among the dead. "It's hell," says Jens Laerke, a spokesman with the United Nations.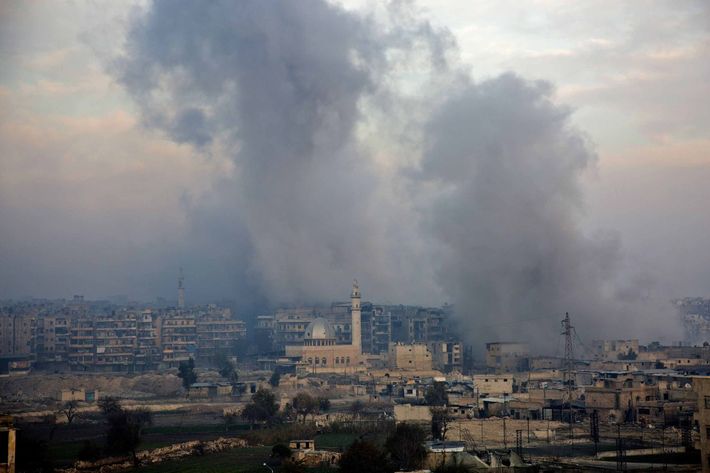 A United Nations human-rights spokesman said there were reports of bodies littering the streets, which were under a constant barrage of gunfire and shelling. Thousands of civilians had remained trapped in those areas, with reports of at least 100 children huddled in a building under heavy fire, per CNN. "They are killing everyone," said 39-year-old Abdulla Saleem, a doctor in Aleppo, told USA Today via WhatsApp. "My friends are doctors, who were providing the only possible medical care to the injured. Now they are butchered. Everyone is dying. I will soon die, too."
This post has been updated throughout.