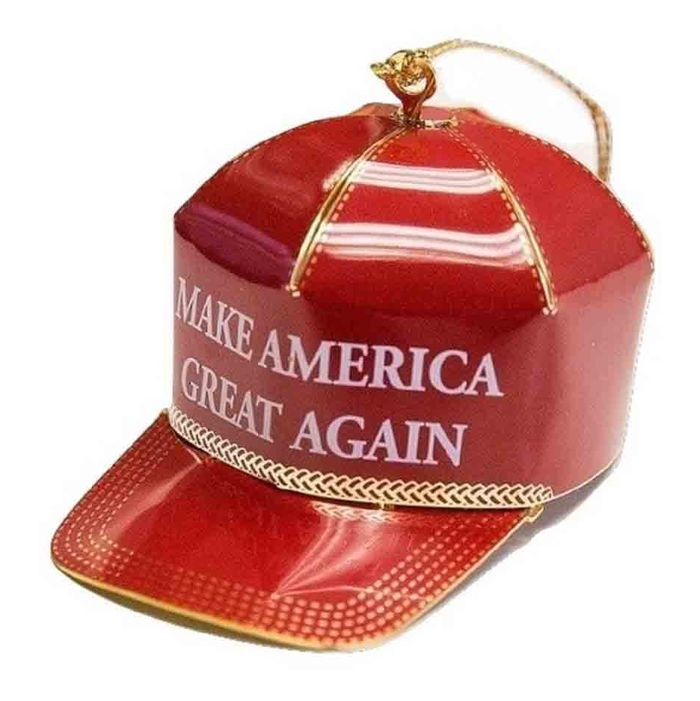 Are you a red-blooded Christian American looking for a way to communicate your desire to #MAGA while celebrating the birth of gun-loving capitalist hero Jesus Christ? If so, has Amazon got a deal for you: the "Trump Make America Great Again Red Cap Collectible Ornament," for just $200 and up, available from several retailers. Like any half-decent Christmas ornament, it is "Made of brass and finished in 14 karat gold."
And yet some of the reviewers on this fine trinket seem less than impressed. For example, Tacitus Lector, in giving the ornament but a single star, writes:
My office puts up a tree every year and we pool resources to get a really nice ornament, usually on the pricey side. For example, 8 years ago we got a really nice, hand crafted ornament from Hawaii. We liked it so much, we decided to get another one just like it 4 years later. Well, this year we all got together and chose a sedate, classy ornament from a shop in New York. My New York friends swore by their work and so we voted and chose it.

But then this red and gold POS showed up in the mail and we can't figure out why! We went through the vote hat again and we definitely voted for the New York piece with overwhelming numbers. I'm a bit worried that our manager, who thinks he's special and soooo sELECTIVE, might have gone over our heads and ordered this one instead.

It turns out we can't get a refund and now we're stuck with the ugly thing. We put it on the side of the tree facing the wall, but it must be bewitched or something because it keeps reappearing at the top of the tree every morning! We found our angel topper in the corner crying. We don't know what happened and she says she's afraid to tell us =/
Simon Webb went through a similar experience, also leaving one star:
Despite ordering a more reasonable ornament, this one arrived. It. Is. Yuge. It's absolutely yuge. It's the biggest ornament. Yuge. I hung it on my tree, but it is so yuge that it has totally unbalanced my whole tree. No matter where I hang it, the tree leans waaaaaay over to the far right.
Shaenon K. Garrity was more generous, offering a four-star rating, but encountered some surprises of her own:
"Came with an entire crate of white hood ornaments. Great bargain! Downside: My tree is now on fire."
One more one-star review, from Grrrowler:
Every autumn my family chooses a new ornament to go onto our holiday tree. This year it was between this ornament and another one that is less flashy, less gaudy, and just overall nicer. During our family meeting we overwhelmingly chose the other ornament but somehow we still ended up with this one. We're not sure what happened.
It almost feels as though these consumers are trying to make some sort of political point, though it's of course very hard to parse exactly what that point may be. Either way, the ornament seems like a quality product befitting our president-elect and his shiny gold elevator, so order today.