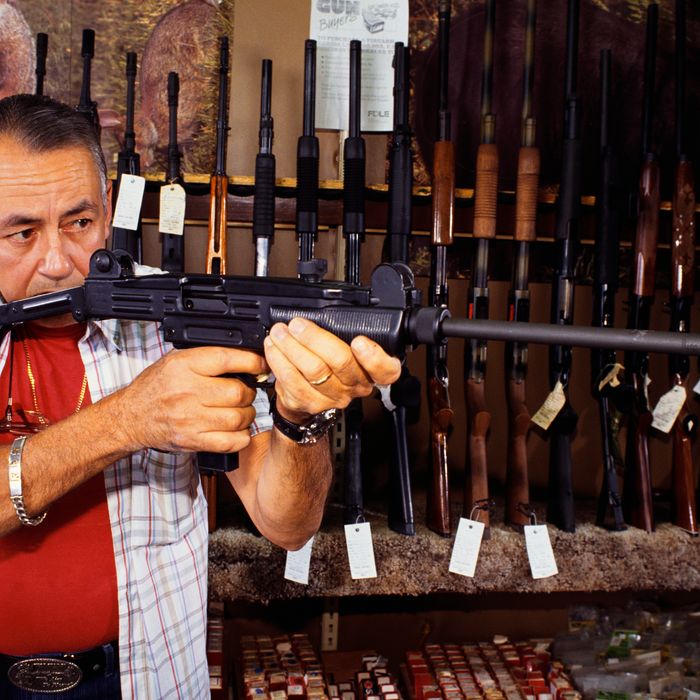 Americans love weapons, but we're not alone.
Photo: Steven D Starr/Corbis via Getty Images
Americans don't only like to buy weapons, we really like selling them, too. And we sell a lot of weapons. In 2015 alone, the United States racked up $40 billion in global weapons sales. As a point of comparison, the world's No. 2 arms seller, France, made sales worth only about $15 billion on the global arms bazaar.
These figures come from a new report by the nonpartisan Congressional Research Service titled "Conventional Arms Transfers to Developing Nations, 2008–2015," which landed on lawmakers' desks last week. The report was full of interesting findings, and not all were as alarming as you might imagine. For example, total weapons sales worldwide actually declined, from $89 billion in 2014 to about $80 billion last year (yes, America is responsible for half of all the world's weapons sales).
Developing nations still buy the most weapons — the top three buyers in 2015 were Qatar, Egypt, and Saudi Arabia in that order — but even those orders are down. Developing countries spent roughly $65 billion buying arms in 2015, a far cry from 2014's $79 billion.
Still, even with global arms sales in decline, America's and France's sales were both way up: America by $4 billion and France by more than $9 billion. Russia, on the other hand, saw their arms sales take a bit of a hit in 2015 — they were down by around $100 million. China is certainly home to the fastest-growing arms market; the country saw its sales double from $3 billion in 2014 to $6 billion the next year.
And why are global arms sales slowing down? Is the world finally giving peace a chance? Not quite. According to report author Catherine A. Theohary, it all comes back to economics: Countries are buying less weaponry "due, in part, to the weakened state of the global economy." Times are tight, even if you're in a fighting mood.