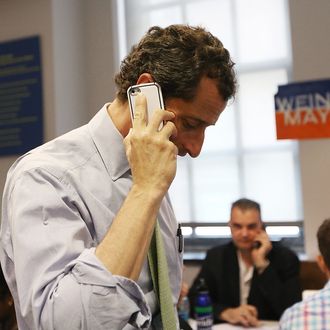 "Yes, this is dog."
Photo: Mario Tama/Getty Images
Anthony Weiner screwed up again, but for once it has nothing do with his penis. On Thursday, the city Campaign Finance Board fined the former U.S. Congressman and failed mayoral candidate $64,956 for ten different campaign-finance violations that occurred during his 2013 run for Gracie Mansion.
The violations include using campaign money to pay $1,539 bills on two personal phones and a dry-cleaning account. Weiner's second sex scandal, the one involving Sydney Leathers, was revealed during his mayoral run in 2013, so it's possible he used campaign funds to pay for a phone that was used to take crotch shots.
The CFB also whacked Weiner for taking campaign contributions above legal limits and failing to justify expenditures such as the $600 his campaign spent on TVs.