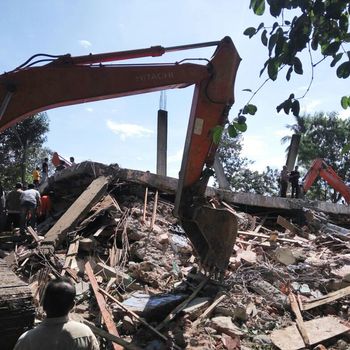 Earth movers have been called in to help sift through the rubble.
Photo: Heri Juanda/AP
A strong 6.4-magnitude shallow undersea earthquake struck six miles off the Indonesian coast in the early hours of Wednesday morning, rocking the island nation's Aceh province, reducing scores of buildings to rubble, and leaving at least 97 dead.
The district of Pidie Jaya, just 11 miles southwest from where the earthquake hit, was devastated by the quake. More than 40 buildings in that district alone were leveled, including mosques and homes. Just after the tremors abated, dozens of would-be rescuers rushed to the sight of the destruction, searching for survivors and pulling hundreds of injured villagers from the rubble.
Dozens more injuries and at least one death — a schoolteacher crushed by falling debris — were reported in neighboring villages.
Earthquakes are a fairly common occurrence in volcanically active Indonesia, and Aceh province is often the worst-affected. When a catastrophic tsunami hit Southeast Asia in 2004, more than 120,000 of Indonesia's 160,000 casualties were in Aceh.
Experts say there is no danger of a tsunami from Wednesday's earthquake.
This post has been updated to account for the revised death toll.