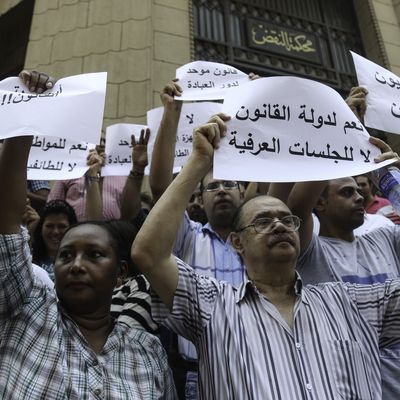 Egyptian Coptic Christians protest outside of the church bombed on Sunday. One sign reads, "Christians are Egyptian."
Photo: Anadolu Agency/Getty Images
A bomb tore through one of Cairo's most important Coptic churches on Sunday morning in what was the most devastating attack on the country's Christian population in years.
The 12-kilogram TNT explosive — packed with ball bearings that acted as shrapnel — rocked the women's worship hall of the Church of St. Peter and St. Paul, part of St. Mark's Coptic Orthodox Cathedral, injuring scores and killing at least 25 worshipers including many women and children. So far no organization has stepped forward to claim the bombing. At least one militant group, the Hasam Movement, did take to Facebook to condemn the attack, saying: "Our prophet had taught us even while we fight not to kill a child nor woman nor old person nor worshiper in his place of worship,"
Egyptian political and religious leaders including Egypt's Grand Mufti, one of the most influential voices in Islam, were quick to speak out against the violence. And the Egyptian Coptic Church shared a statement on its Facebook page:
"As we are bereaved by this violence and terrorism that attacks worshipers, we pray for these martyrs and for the wounded. The Egyptian church stresses on persevering national unity that keeps all Egyptians on Egypt's blessed land."
Hundreds of protesters took to the streets in front of the cathedral calling for the resignation of Interior Minister Magdy Abdel Ghaffar, whom they castigated for failing to protect the Egyptian people from terrorism and for not addressing growing discrimination against Egypt's Christian minority.
The church explosion came just two days after bombing attacks killed six police officers on the road that leads to the Giza pyramids.
The Egyptian government has called for a three-day mourning period and promised that the group responsible for the bombing will be found and that justice will be served.