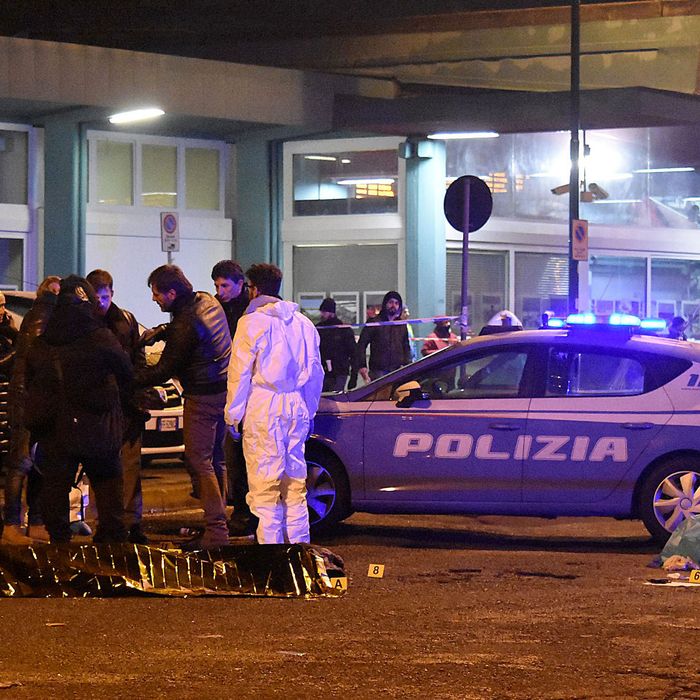 Italian police and forensics experts gather around the body of suspected Berlin truck attacker Anis Amri after he was shot dead in Milan on December 23, 2016.
Photo: AFP/Getty Images
Anis Amri, the man suspected of ramming a tractor-trailer into a crowd at Berlin's Christmas market this week, has been killed after a shootout with police outside Milan, Italy. The nearly weeklong manhunt ended early Friday, after two police officers from the suburb of Sesto San Giovanni stopped Europe's most wanted man, who was on foot, after a routine check. The cops asked for his identification; Amri "immediately" drew a gun and shot one of the officers in the shoulder. His partner, a rookie cop, responded, firing on, and fatally shooting, Amri. The wounded policeman was hospitalized, but his injuries are not life-threatening.
"There is absolutely no doubt that the person killed is Anis Amri," Italian Interior Minister Marco Minniti assured the public on Friday. Fingerprints from the dead man also matched Amri's, ending the dragnet but raising a host of new questions, including how Amri evaded authorities for so long, and managed to cross multiple borders, apparently without detection.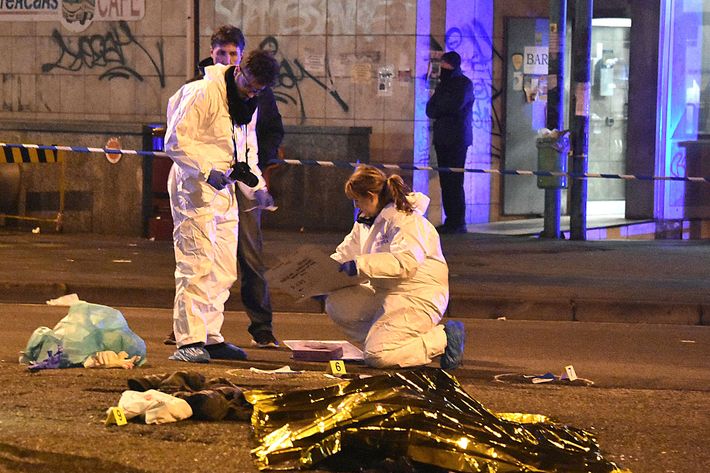 A search of Amri turned up a ticket that showed he had arrived in Milan's Central Station around 1 a.m. Friday on a train from Chambéry, France, with a stop in Turin, Italy. Authorities are now trying to figure his movements over his last days and final hours. According to the Guardian, Amri carried no ID, no phone, and, besides his handgun, had a small pocket knife.
German authorities have also not ruled out potential accomplices. Amri, a 24-year-old Tunisian migrant who first arrived in Italy around 2012 before coming to Germany around 2015, was a failed asylum-seeker who authorities had tried, unsuccessfully, to deport. German and other intelligence agencies had put him on their radar for potential terror ties, and he had been pinpointed as someone who had designs on carrying out an attack. Authorities had monitored his communications until September of this year.
ISIS, which had called Amri a "soldier of the caliphate" after the attack, released a video via its Amaq News Agency that appears to depict Amri declaring his allegiance to the terror organization. In the clip, the Berlin suspect pledges loyalty to ISIS founder Abu Bakr al-Baghdadi, and claims his attack is retribution for air strikes against Muslims. "God willing, we will slaughter you like pigs," he professes.
There is no evidence yet that Amri was under coordinated instructions from ISIS, though evidence suggests that he had at least tried to make contact with extremists, and the video — the authenticity of which hasn't been confirmed, but appears credible — indicates that he devoured ISIS propaganda.
Meanwhile, Germany remains on alert. In addition to the ongoing investigation into Amri, German authorities said they foiled an attack on a mall North Rhine-Westphalia, in northwestern Germany. Police arrested two Kosovan brothers whose identities have not yet been released.
This post has been updated with new information.