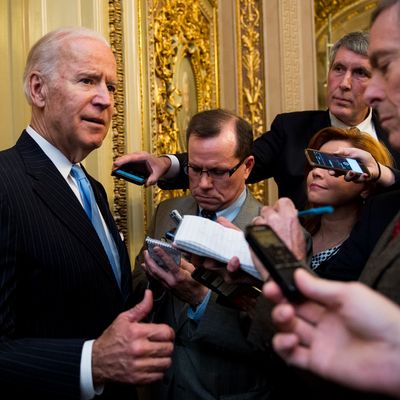 Kanye, see you on the debate stage.
Photo: Bill Clark/CQ-Roll Call,Inc.
In a parallel universe, we are currently speculating about whether President-elect Hillary Clinton is seriously considering Joe Biden for secretary of State, or just floating the idea to boost America's morale after a difficult election. In this world, we have to settle for Joe Biden saying he may run for president in 2020, which is very possibly a joke.
On Monday night, the vice-president returned to the Senate, where he served for 36 years, to preside over a procedural vote on the 21st Century Cures Act, a sweeping, controversial bill that includes funding for his "cancer moonshot." Majority Leader Mitch McConnell successfully moved to rename the portion of the legislation on cancer funding for Biden's son Beau, who died of a brain tumor last year, and the bill went on to pass by a vote of 85 to 13, according to the Washington Post.
After the vote, Biden discussed his goal of accelerating cancer research with reporters. "If we start collaborating as much as we're beginning to do now, we really — no malarkey — we can make significant progress even if we don't have one additional breakthrough," he said.
Biden also commented on his love for the Senate, prompting CNN producer Ted Barrett to ask if he'll ever run again. "Yeah, I am," Biden said. "I'm going to run in 2020." Another reporter asked what office he'd run for. "For president," Biden replied. "What the hell, man."
When cautioned that they'd run the quip, Biden told another journalist, "That's okay." When asked if he was kidding, he said, "I'm not committing not to run," adding, "I'm not committing to anything. I learned a long time ago fate has a strange way of intervening."
Before the election, Biden mentioned that he might write a book and said he was in talks with "a couple of major universities." He didn't offer any specifics, but back in 2012 there were rumors of the veep starting a presidential-library-like center at the University of Delaware, his alma mater. He also made it clear that he intends to continue working on the cancer moonshot for the rest of his life.
The Post reports that the VP was deadpan throughout his exchange with reporters, but it seems highly likely that he was just laying on the famous Biden charm. He'll turn 78 a few weeks after the 2020 election; Ronald Reagan, the oldest person to serve as president, turned 78 a few days after leaving office.
However, the vice-president is also no stranger to drawing out speculation about his presidential ambitions, and these days Democrats will take hope where they can find it — even in the double negative "I'm not committing not to run."
According to The Wall Street Journal, Jon Cooper, national finance chairman for last year's Draft Biden effort, bought up a number of web domains on Monday night, including draftbiden2020.com, biden2020.net, and runjoerun2020.com. He said he has no inside info on Biden's intentions, but he's "an eternal optimist."