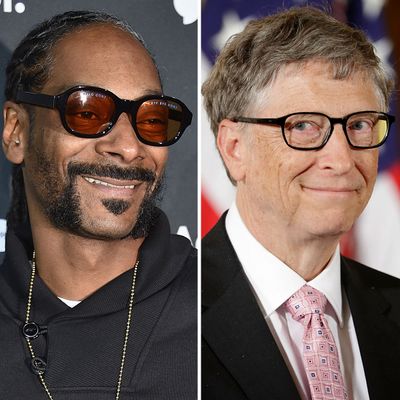 Some excellent gift givers in stylish frames.
Photo: Getty Images
Each year, strangers across the internet unite for a giant, Reddit-sponsored Secret Santa exchange. Since users on the platform use anonymizing handles, participants never really know who they are going to get. That is, unless you open your present to discover a card signed by Bill Gates or Snoop Dogg … a holiday surprise two Reddit users experienced this December.
Redditor /u/Aerrix (her real name is Alicia) received a box from Gates this year, while a Redditor /u/queenoftitsandwine (her real name is Erin) got one from Snoop Dogg. Erin told WHNT-TV she had an inkling her Santa might be a celeb after she was sent a message from a Reddit administrator letting her know the package was in the mail. "That's not normally what happens," Erin, who has participated in Reddit's Secret Santa for the past three years, said. "Normally you get an automated message to just alert you your Secret Santa shipped your gift. So that was a little odd."
After getting their gifts, redditors are asked to post about their hauls on Reddit. Alicia's post included a lengthy summary of the package Gates sent her, sharing a picture of the giant box with her cat and dog sitting atop it "for scale." Inside, Gates included a dozen wrapped presents he'd selected based on interests gleaned from her Reddit profile. (She's a big fan of The Legend of Zelda.) The gifts included custom Zelda mittens for Alicia and her dog, a Zelda blanket, a paper replica of a sword from Skyward Sword, three DVDs, (The End of the Tour, Believe, and The Martian), and a cookbook. Also included: an Xbox One Minecraft Edition with three controllers and several games and an NES Classic. Because sending just one gaming console would be lame. Gates also made a donation to Code.org in Alicia's name and included a Photoshopped version of her profile picture with him in it, in a Zelda frame of course. Oh, and he also got her a pair of Ravenclaw slippers, "I won't be able to consult with the Sorting Hat but I can tell that you are quite clever — so I got a pair of Ravenclaw slippers from Hot Topic." Pause here for a moment and savor the mental picture of Bill Gates moseying into the Hot Topic at your local mall.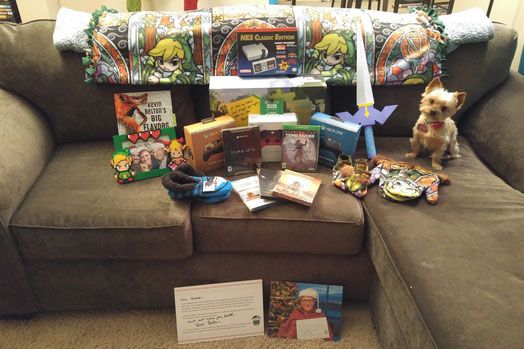 Meanwhile, Snoop Dogg's gift to Erin was slightly smaller, but still excellent. He sent a note wishing her a "MERRY XMIZZLE" and included a drone, tea, a candle, socks, an "I Became a Snoop Dogg Millionaire" shirt, and pair of Snoop Dogg–branded slippers. Which we will assume he did not buy at a Hot Topic.