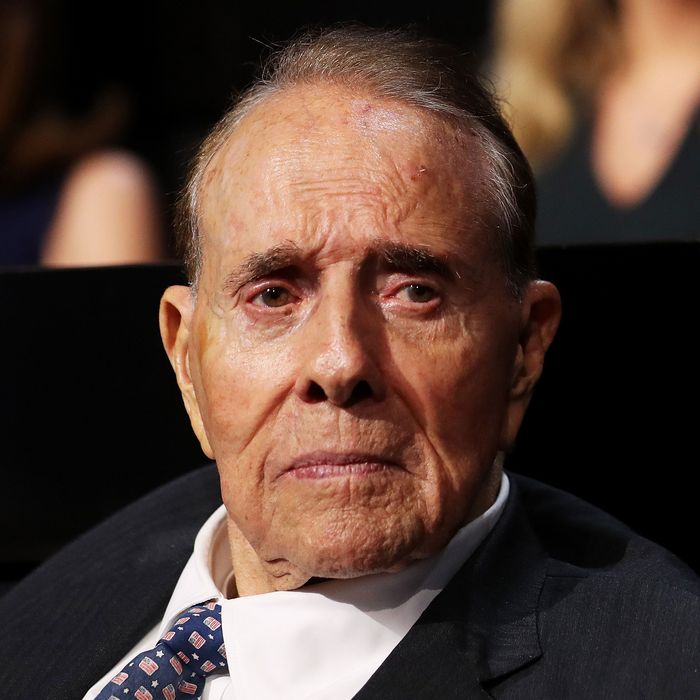 Bob Dole at the RNC.
Photo: John Moore/Getty Images
Former Kansas senator and onetime GOP presidential nominee Bob Dole didn't just arrange the phone call between Donald Trump and Taiwan's President last week; he spent months making sure it would happen.
Taiwan paid Alston & Bird, the law firm where Dole works, $140,000 from May to October of this year so that the 93-year-old would lobby Trump on its behalf, Politico says. And so he did that for months, in a handful of different ways.
Dole, the only past Republican presidential nominee to endorse Trump before the election, briefed the campaign's policy director, set up meetings between campaign staff and Taiwanese emissaries, arranged for Taiwan's delegation to attend the Republican National Convention, and helped tilt the party platform further in the island's favor, the disclosure released to POLITICO shows. He even arranged for members of Taiwan's ruling party to take a White House tour, according to the filing.
Dole's relationship with Taiwan and subsequent brokering of the phone call defies the Trump transition's ban on lobbyists. It also makes the initial description of the call — a simple "congratulatory call" — even more farcical.
On Monday, the Washington Post reported that the phone call was "the product of months of quiet preparations" and "an intentionally provocative move that establishes the incoming president as a break with the past." In some ways that's true. Trump's call did break 37 years of protocol. But it also appears to have been the product of the lobbying efforts of a former senator. And in that way, it's not a break from the past at all.