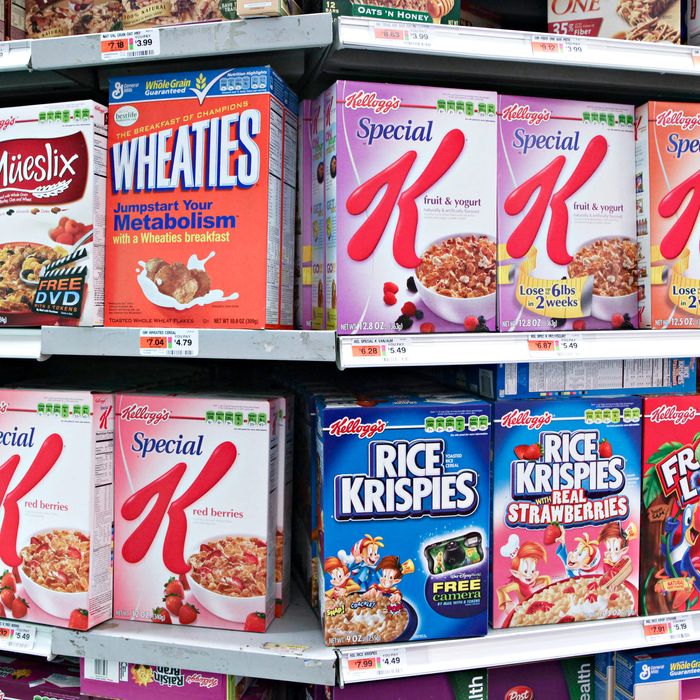 Photo: DANIEL ACKER/Bloomberg via Getty Images
Breitbart News, a right-wing news site that regularly mocks over-sensitivity in modern American society, is asking readers stop eating food from Kellogg's because the company hurt its feelings. The move is a response to the food giant pulling advertising from Breitbart, which is not "aligned with our values as a company," spokeswoman Kris Charles told the AP Tuesday.
That quote and the ad pull did not sit well with site brass and now they're soliciting signatures to #DumpKelloggs. At the moment there are more than 120,000 signatures on the pledge, which accuses Kellogg's of "discrimination and intense prejudice" for blacklisting the "largest platform for pro-family content anywhere on the Internet."
"If you serve Kellogg's products to your family, you are serving up bigotry at your breakfast table," the pledge declares.
The site, formerly run by Donald Trump's senior adviser Steve Bannon, who called it "the platform of the alt-right," has recently become the target of activists. Their goal is to convince advertisers to cut ties with the publisher of such articles as "Hoist it high and proud: The Confederate flag proclaims a glorious heritage." In addition to Kellogg's, the glasses company Warby Parker and the San Diego Zoo have said their ads will no longer appear on the site. According to a Twitter account called Sleeping Giants, which has led the push to get companies to drop Breitbart, the list is much longer.
It should be noted that many, if not all, of these companies were not intentionally advertising on Breitbart. The ads are often placed on the site through third-party ad networks or retargeting firms. But those agencies allow companies to blacklist sites that they want to avoid, such as porn sites, gambling sites, or, increasingly, the site once described as Donald Trump's "personal Pravda."