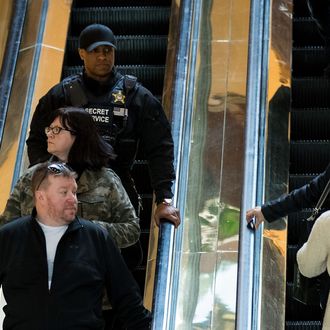 An amenity on a Trump Tower escalator, also an amenity.
Photo: Drew Angerer/Getty Images
Trump Tower is swimming with Secret Service agents these days, as President-elect Donald Trump lives and runs his transition out of the midtown high-rise. According to one NYC real-estate agency, that's yet another reason to spend an obscene amount of money to live there.
In mid-November, real-estate agency Douglas Elliman advertised Secret Service presence as a "new aminity [sic]" at the tower, Politico reports. The pitch came in an email hawking a 1,052-square-foot one-bedroom condo on the market for $2.1 million. The domicile is the "The Best Value in the Most Secure Building in Manhattan," the email said.
The condo, like all of the units in Trump Tower, is individually owned, meaning this is the rare example of someone whose last name isn't Trump attempting to profit off his new position.