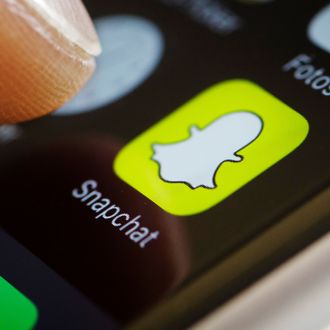 Photo: Thomas Trutschel/Photothek via Getty Images
For all the good things about Snapchat — college kids falling in love, giant tacos, filters that make your face look dewy as hell — finding people to follow on the app can be difficult. While it's fairly easy to add personal friends via their names or cell-phone numbers in your address book, adding celebrities, athletes, politicians, and … please forgive me … influencers isn't as simple, especially if you don't know their usernames. Unlike other social apps (e.g., Twitter, Facebook, and Instagram) Snapchat does not recommend people for you to follow based on those you already do. You've got to do the work yourself.
Fortunately, there are a few secret hacks you can use to find people with Official Stories (stories from people and organizations verified by Snapchat so you know they're legit). These stories are denoted by a single emoji next to the user's name on the far right side of your feed. For example, DJ Khaled has, of course, a key emoji. (Don't be tricked by users who add emoji to their usernames.)
Find celebs via the Official Stories page.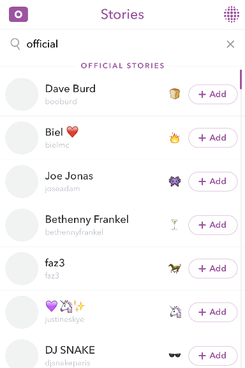 Open the app and swipe left once to the "Stories" screen. Next, gently drag the screen down from the top until a "Search" bar with a magnifying glass appears. Type in the word "official" and press search. A list of every Official Story currently posted on the app will appear. You can preview each story by tapping the circle next to a person or organization's name. If you like what you see, add them by tapping the "+Add" button next to their name.
You can also search for official users by typing an emoji into the search bar. Woman-with-bunny-ears emoji (👯) will bring up Rebel Wilson's account. Type the skull emoji (💀) and you'll get Halsey. Different sports emoji bring up Official Stories from both leagues and individual teams. While not as efficient, it's still a fun and easy way to track down stars on Snapchat.
If there is a specific celebrity you're hoping to follow, but are unsure whether they use Snapchat, type their name into the search bar. If they are on the app, their account will pop up under an "Official Stories" header. (Picture me typing "Ina Garten" and looking sadly at my phone when nothing turns up.) Since you have to do this one name at a time, it's definitely easier to just type "Official" and see which celebs are on Snapchat rather than individually sussing out which ones aren't. (Mind you, the "Official" search results will change daily based on who has posted a story that day.)
Find celebs via the "Add friends" page.
Open the app and swipe down from the top of the camera app. Tap "Add friends" and then tap "Add by Username." Type "official" to see the 20 most recent Official Stories from verified users. The emoji trick also works here too.
Find celebs via Live Stories.
Live Stories are user-submitted and Snapchat-curated stories that live for 24 hours on the app. If a submitted snap comes from a celeb with an Official Story, you'll see their username in the top-lefthand corner of the screen while the snap plays. Tap that area to see a mini-profile for that user and add them without ever having to leave the Live Story you were watching in the first place.