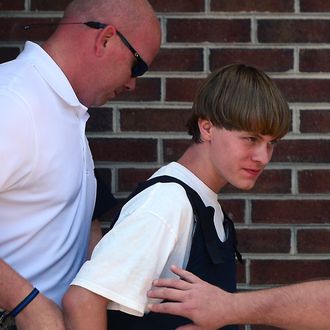 Accused Charleston church shooter Dylann Roof.
Photo: Todd Sumlin/TNS via Getty Images
Just one week after getting permission to represent himself, Dylann Roof — who stands accused of killing nine people in a racially motivated attack on a Charleston church last year — has partially changed course and now wants his lawyers to represent him at least through the first phase of his trial.
On Sunday afternoon, Roof presented his desire to Judge Richard Gergel on a handwritten piece of notepaper:
"I would like to ask if my lawyers can represent me for the guilt phase of the trial only. Can you let me have them back for the guilt phase, and them let me represent myself for the sentencing phase of the trial? If you would allow that, then that is what I would like to do."
This last week the court has been busy with the jury selection process, and though Roof has been officially relieved of his legal representation — his lawyers now attend court only as his advisory standby counsel — Judge Gergel has had to stop proceedings multiple times to remind them that they are no longer allowed to address the court verbally or in written briefs on Roof's behalf.
Gergel is expected to weigh in on Roof's request on Monday, but the idea of Roof not representing himself in the guilt portion of the trial will no doubt come as a considerable relief to many who feared that Roof would turn the court proceeding into a soapbox for his racist beliefs. The change would also mean that Roof won't be in the position to directly cross-examine survivors of the shooting. Gergel himself has called Roof's move to represent himself "very unwise."
Although the specifics of Roof's legal strategy are unknown, experts believe that the tension between Roof and his attorneys is over the shooter's reluctance to disclose his mental state to the court. By representing himself in the sentencing phase Roof should still be able to avoid sharing his mental-health diagnosis.