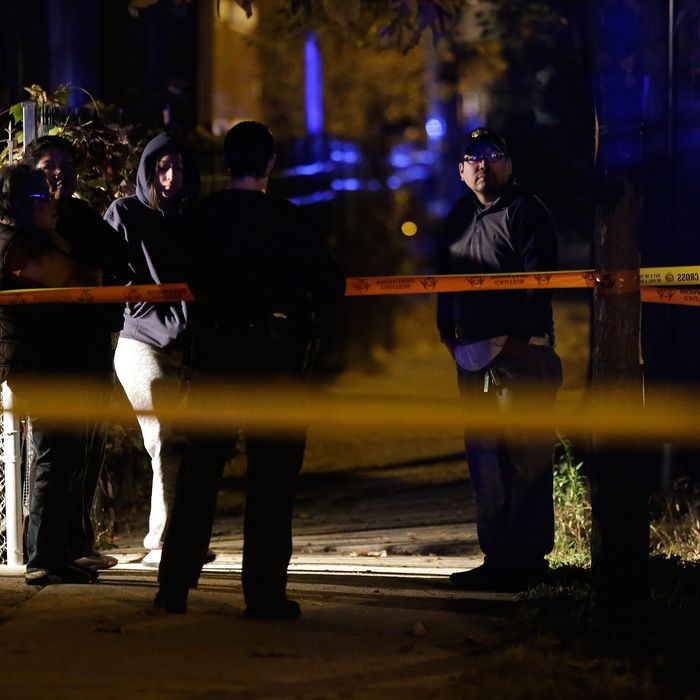 Chicago police officers and bystanders stand near crime-scene tape where a man was shot in the head as he sat in a vehicle on the 2600 block of West Luther Street on November 16, 2016, in Chicago, Illinois.
Photo: Joshua Lott/AFP/Getty Images
On the Far South Side of Chicago, a 25-year-old man crashed his car early Wednesday morning. Emergency responders found him with four gunshot wounds — three to the abdomen, one to the back. He died at the hospital, marking the city's 700th murder year, according to the Chicago Tribune.
With one month still remaining in 2016, the violence-plagued city is on pace to have the highest homicide rate in almost 20 years. By Friday morning, Chicago topped the number of murders for all of 1998, at 703. In 1997, 759 were killed in the city — at the time, an eight-year low.
According to the most recent Chicago Police Department data, the murder rate is up about 57 percent from 2015 — which still saw 468 homicides, an increase from 416 in 2014. FBI statistics indicated that the national murder rate rose 10 percent, about half of which was attributable to the bleak statistics in seven cities, Chicago among them.
In comparison, New York has had less than 300 murders so far this year, down about 6 percent from 2015 so far.
Police blame repeat gun offenders and gangs — cliques, often of teenagers, that are fractured and concentrated in small areas. The city is dealing with the aftermath of the death of Laquan McDonald, a 17-year-old who was shot shot 16 times by a Chicago cop who is now on trial for murder. Fallout from that deadly encounter also shook up the police department; Police Superintendent Garry McCarthy* was fired last year and interim Superintendent Eddie T. Johnson officially took over the department in March.
Chicago's grim overnight stats on Friday morning were 11 wounded, two dead. Among the murdered was a 48-year-old man, found with multiple gunshot wounds; and a 73-year-old man who was hit with a bullet while driving, and crashed his car. Police are investigating whether he was the intended target, or was simply caught in the crossfire.
*This post incorrectly identified the former Chicago Police Department Superintendent. It has been corrected, and we apologize for the error.