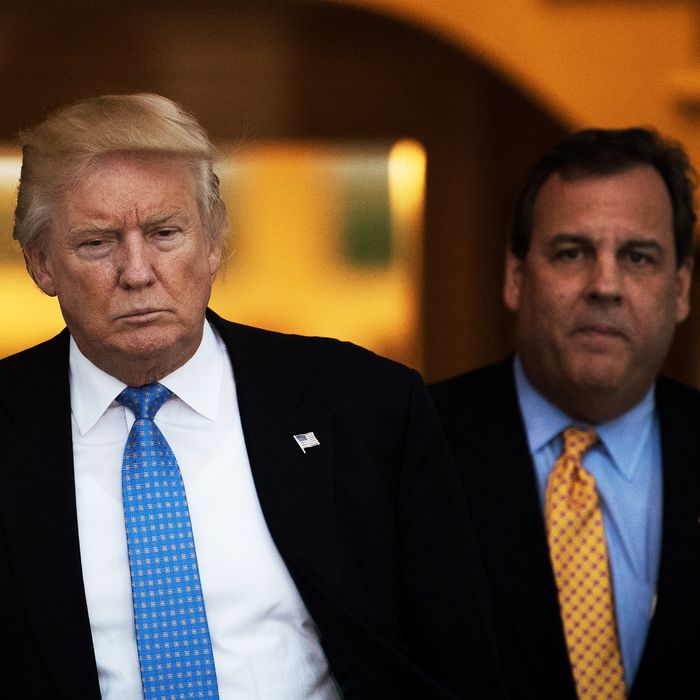 Donald Trump and friend.
Photo: Drew Angerer/Getty Images
New Jersey Governor Chris Christie spent much of the summer debasing himself for Donald Trump's pleasure in an apparent attempt to ensure his place in a Trump administration, should such a thing exist. But now, with Inauguration Day less than a month away, Christie remains on the outside. After a summer as Trump's whipping boy, his constituents despise him and his political future looks less promising than it has in years.
But Christie is undeterred, according to a report in the New York Times. The governor still believes he will make it into Trump's administration, even if it doesn't happen right away. And once he gets there, he'll save the day.
Christie's path to the White House, which the Times says his "friends have been telling people" about, begins with Jared Kushner, Steve Bannon, and Reince Priebus, three of Trump's most trusted deputies, completely failing. Rudderless and desperate, Trump, in this scenario, will then call on Christie to saunter on down to D.C. and rescue his presidency from certain disaster. The role Christie is imagining is something like David Gergen's in 1993, when he "swooped in to steady Bill Clinton's administration after a raucous first year," the Times says.
But more likely, of course, is him swooping in with a Quarter Pounder.