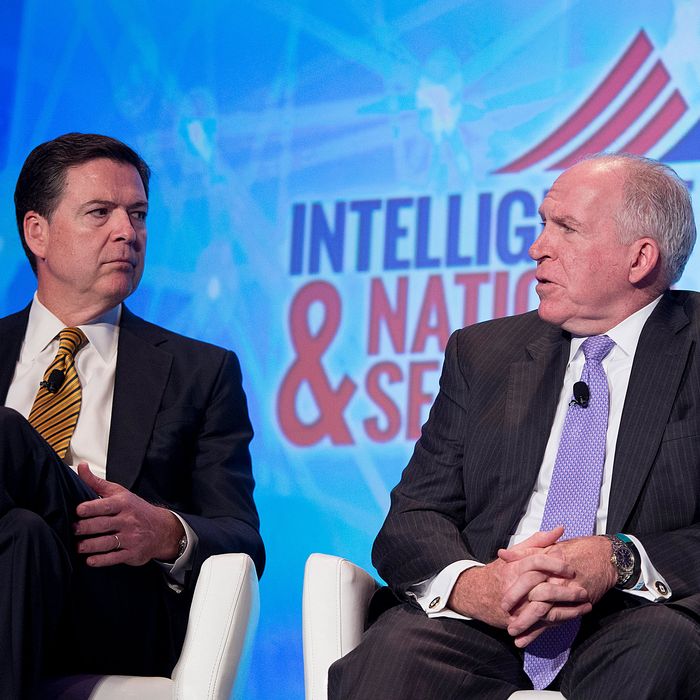 The supposedly bickering Comey and Brennan actually agree on Russian intentions in preelection hacks.
Photo: Jim Watson/AFP/Getty Images
In a development that could elevate the Russian hacking story to a different level altogether, the Washington Post is reporting that the FBI and the Director of National Intelligence are all in accord with a CIA finding that the Russian government had sought to help Donald Trump become president:
"Earlier this week, I met separately with (Director) FBI James Comey and DNI Jim Clapper, and there is strong consensus among us on the scope, nature, and intent of Russian interference in our presidential election," CIA Director John Brennan said in a message to the agency's workforce, according to U.S. officials who have seen the message …

"The three of us also agree that our organizations, along with others, need to focus on completing the thorough review of this issue that has been directed by President Obama and which is being led by the DNI," Brennan's message read.
This story directly contradicts earlier claims, also reported by the Post, that the FBI and the CIA were at odds on their understanding of Russian intentions.

A separate House intelligence briefing by a senior FBI counterintelligence official last week left some Republican and Democratic lawmakers with the impression that the bureau wasn't on the same page as the CIA, according to officials present.

"The truth is they were never all that different in the first place," an official said of the FBI and CIA positions.
The consensus view is that helping Trump become president was clearly one of, though not necessarily the only, motives behind the Russian hacking efforts.
Assuming this is the final word on the actual position of the FBI, it knocks the props from under the dismissal of the whole Russian hacking issue by the president-elect and the sea of Republicans defending his position. A he-said-she-said story of bickering and perhaps politically motivated intelligence agents arguing over the facts has now become a they-said story pointing a finger directly at Moscow, with potential implications for the perceived legitimacy of the 2016 election.
The next shoes that drop — especially in Congress — could be heavy indeed.