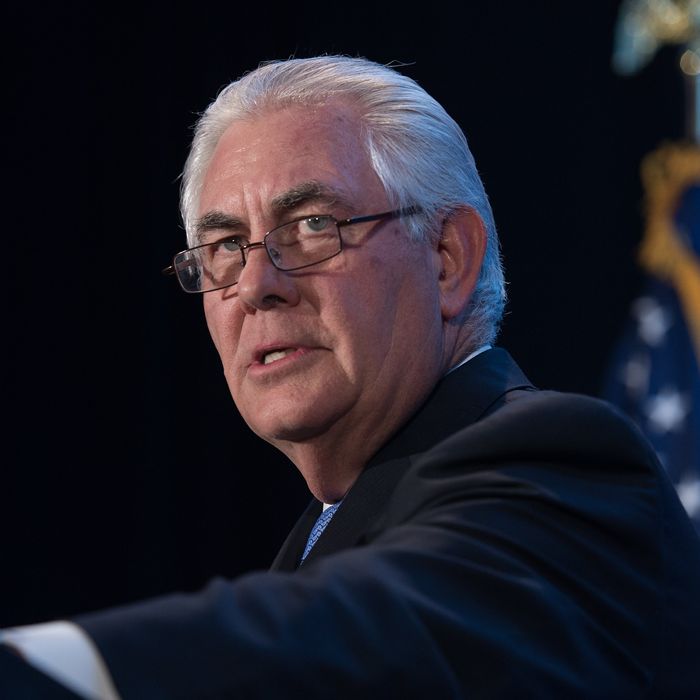 Rex Tillerson, one of Putin's favorite Americans.
Photo: NICHOLAS KAMM/AFP/Getty Images
After a lengthy audition process for the role of Donald Trump's secretary of State — which even the president-elect compared to a reality show — Trump's team floated Exxon Mobil CEO Rex Tillerson for the job over the weekend. Coming just a day after a report that the CIA concluded Russia meddled in the U.S. election in an attempt to help Trump, even some Republicans were quick to push back against Tillerson, who has close ties to Russian President Vladimir Putin.
If the leak was meant to gauge reaction to Tillerson, Trump isn't worried about yet another possible confirmation battle on Capitol Hill. On Monday night, Trump tweeted that he'll announce his pick for secretary of State in the morning, and according to multiple outlets, he wants Tillerson for the job.
The latest reports came after the two most high-profile politicians seeking the job were eliminated from the contest. On Friday, Trump announced that Rudy Giuliani — who had many potential conflicts of interest — removed himself from consideration weeks earlier. And shortly before the Tillerson reveal on Monday night, Mitt Romney posted this on Facebook:
Trump adviser Roger Stone claimed on Sunday that Trump only interviewed Romney "to toy with him" after the GOP nominee stood up to him during the election. While Trump sources deny that, many are still convinced that Trump had Romney publicly praise him and share a meme-worthy meal of frogs legs in an effort to neutralize one of his biggest critics — or just humiliate him.
Trump passed over a number of other candidates — including Senator Bob Corker, former Utah Governor Jon Huntsman Jr., and former CIA director David Petraeus — before settling on the 64-year-old Tillerson, who started at Exxon in 1975 as an engineer and spent his entire career at the oil company. Exxon does business on six continents, and Trump was said to be impressed by Tillerson because he's a deal-making businessman like himself (also two of Trump's closest advisers, Steve Bannon and Jared Kushner, were reportedly pushing for him). The president-elect tweeted on Sunday:
While his personal foreign-policy views are unclear, he has remarkably strong ties to Russia through his work for Exxon. He's known Putin for nearly two decades, and in 2013 he was awarded the nation's Order of Friendship after striking a deal that gave Exxon access to a Russian-controlled area of the Arctic Ocean.
The agreement stalled after the United States imposed sanctions on Moscow over Russia's intervention in Ukraine and occupation of Crimea. Tillerson has spoken out against the sanctions, which are costing Exxon billions. While Tillerson is set to retire next year, he has 2.5 million shares of Exxon stock, including 1.8 million that are not vested and cannot be sold now, according to CBS News.
In addition to his Russia ties and business conflicts, Tillerson is likely to face opposition from environmentalists over recent revelations that Exxon knew climate change was real for decades but expressed skepticism publicly. (While Tillerson had previously doubted that global warming exists, in recent years he said the threat is "serious" and called for a carbon tax.)
But the most serious roadblock to confirmation is Tillerson's relationship with Russia, which prompted a number of GOP senators to speak out against him. "When he gets the friendship award from a butcher, frankly, it's an issue that I think needs to be examined," Senator John McCain said on Monday. On Sunday Senator Marco Rubio tweeted:
Another Republican, Senator James Lankford, "is not ready to vote for Rex Tillerson," according to D.J. Jordan, his communications director. He added that the senator has "a lot of questions about Mr. Tillerson and his ties to Russia, and his ability to be America's top diplomat."
Republicans have 52 seats in the Senate, so if Democrats vote together it would only take a few Republican votes to deny Tillerson the majority needed for confirmation. Democratic Senator Ben Cardin tweeted on Monday night:
"I don't know if [Tillerson] can get 50 votes or not," outgoing Senate Minority Leader Harry Reid told CNN. "I think it may be a little hard for him to do that."
While the Senate hasn't rejected a Cabinet nominee since 1989, next year we could see Giuliani, Romney, and all the rest of the contestants return for season two of The Apprentice: Secretary of State.