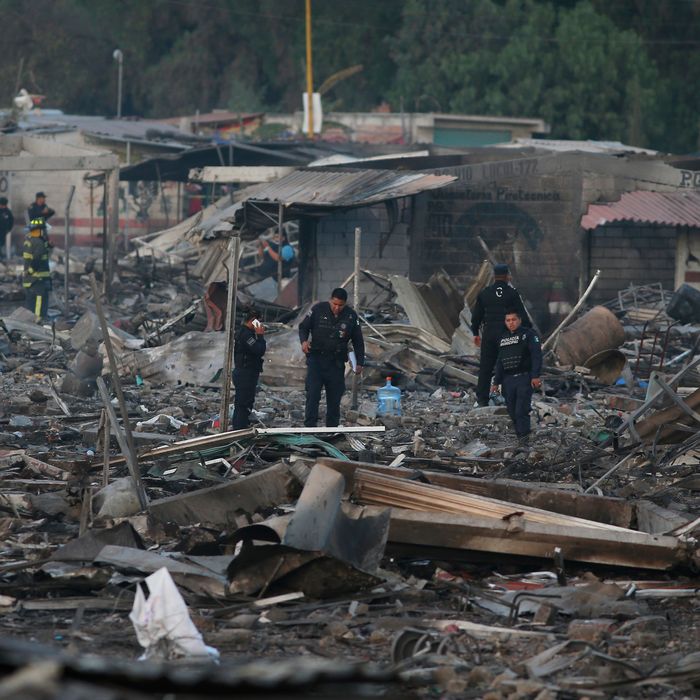 Scores have been injured and 27 are dead.
Photo: Eduardo Verdugo/AP
An explosion ripped through Mexico's best-known fireworks market on Tuesday, killing scores and leaving more than 60 people wounded. A fire caused the blast at the sprawling San Pablito fireworks market in Tultepec, about 20 miles north of Mexico City. The blaze decimated hundreds of open-air stalls and sent a massive plume of smoke into the sky, triggering many smaller explosions. The area remained dangerous for hours after the first blast.
The death toll is disputed, but the chief prosecutor of Mexico State, Alejandro Gomez, has said that 26 people were killed — though other local officials are saying 27 people are dead. Luis Felipe Puente, head of national emergency services, has confirmed that at least 70 were injured. Both numbers are expected to rise as rescue crews comb through the wreckage.
The explosion was large enough to damage nearby homes, and authorities are warning people to keep a distance of at least three miles from the market. Ten ambulances and more than 50 paramedics are on the scene, but they have no choice but to let unexploded fireworks burn off before rescue efforts can continue in earnest.
Firework markets are common across Mexico, where fireworks are traditionally let off to celebrate Christmas and the New Year — but they have also proved deadly. Hundreds of stalls in the same market were destroyed in another explosion in 2005, and again after a similar fire in 2006.