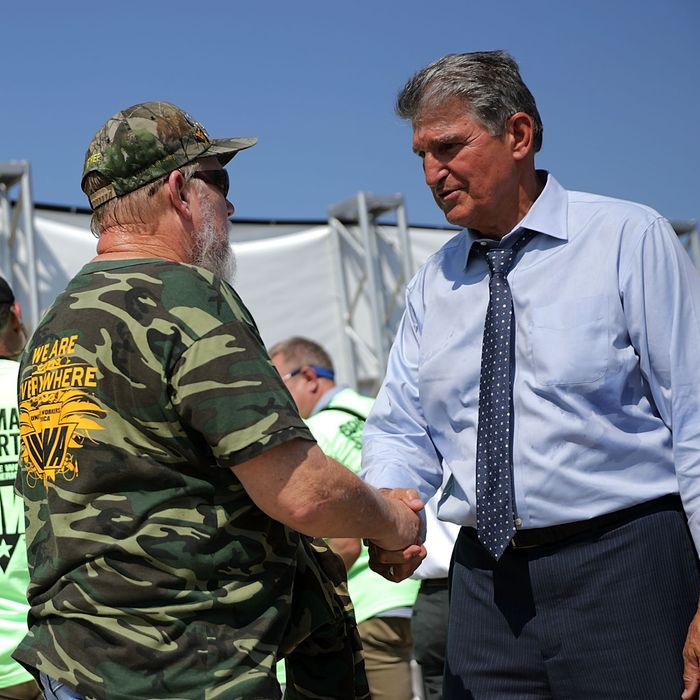 Senator Joe Manchin greets members of the United Miner Workers of America at a rally on the National Mall on September 8, 2016.
Photo: Chip Somodevilla/Getty Images
The Obama administration will conclude with one more government shutdown threat, but this time the players have changed. Senate Democrats say they may shut down the government this weekend if they can't secure a better deal to extend health benefits for retired coal miners — and they're appealing to Donald Trump for support.
On Thursday, a bill to keep the government funded through April 28 passed overwhelmingly in the House, but Democratic senators Joe Manchin of West Virginia and Sherrod Brown of Ohio (who are up for reelection in 2018 in states won by Trump) are rallying their caucus to miss the Friday midnight deadline to pass the legislation. Their aim is to secure another year of health benefits for the miners, rather than the four months included in the bill, by reopening negotiations with Republicans.
In 1946, the United Mine Workers of America and the U.S. government agreed that miners who put in 20 years or more would get lifelong health benefits and pensions. But with coal producers struggling, money is running out, and roughly 16,000 retired miners in seven states are set to lose their benefits.
Now Democrats are trying to put pressure on Republicans by pulling Trump into the issue. "I hope our new president-elect, who talked and got to know the miners, will speak out," incoming Senate Minority Leader Chuck Schumer said on Thursday. "We don't care about partisanship."
"We think there has been a renewed interest in these kind of issues with president-elect Donald Trump," added Democratic senator Heidi Heitkamp. "We're hopeful that we'll be able to get relief and be able to deliver a Christmas present to some of the most sympathetic working people in America."
Heitkamp has already met with Trump about a potential cabinet job. Manchin is headed to Trump Tower on Friday morning, and it's unclear if he'll stick to discussing a job in his administration, or make a plea for the miners' benefits as well.
Republicans said it was too late to negotiate, as House members finished their business on Thursday and were already headed home for the year. "They're not going to get what they want," said Senator John Cornyn, the No. 2 Senate Republican. "They ought to actually be grateful for what they got."