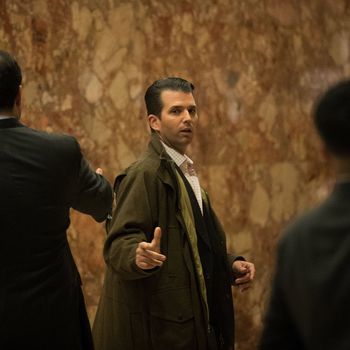 Photo: Drew Angerer/Getty Images
Donald Trump Jr., who will likely be charged with running the Trump Organization during his father's presidency, reportedly helped the elder Trump choose Montana congressman Ryan Zinke as secretary of Interior, the latest reason to doubt Trump's sincerity about fully separating his business from his incoming administration.
Politico reports that Trump Jr. "sat in on interviews, and made calls to candidates," as the transition team sought to fill a position that he once joked he'd be interested in.
Last Friday, CNN reported that Trump Jr. was pushing for someone from a Western state. His "hunting passion and conservationist ways" reportedly pushed him West in an effort to find a like-minded outdoorsman. As of last week, CNN said that had him looking to Washington representative Cathy McMorris Rodgers, but then Trump Jr. met with Zinke. The Washington Post says they "hit it off," and the rest is history.