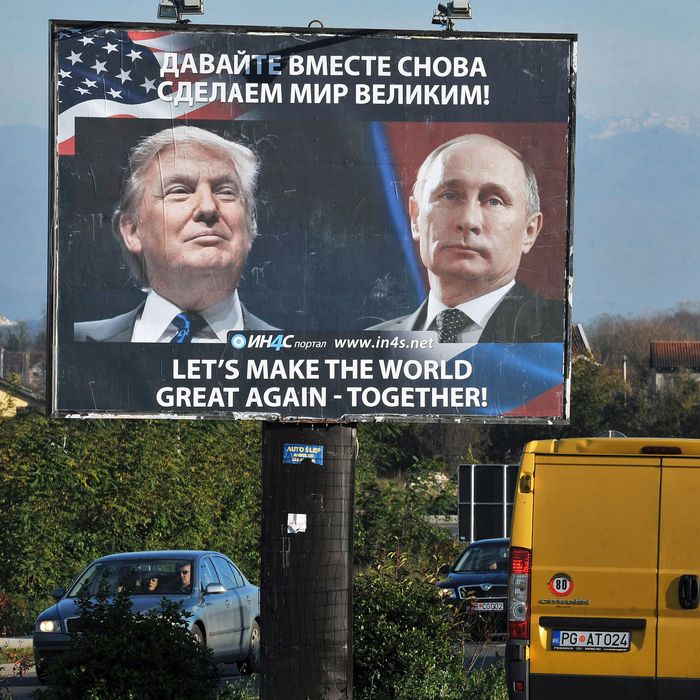 Seasons greetings.
Photo: Savo Prelevic/AFP/Getty Images
The holiday season is a time to let bygones be bygones; to forget the things that have pulled us apart and focus on those that bind us together. No one wants to spend Christmas squabbling about who never takes out the trash, or owes someone money, or interfered in an election or annexed Crimea.
On Friday, Donald Trump and Vladimir Putin got swept up by the holiday spirit.
"Serious global and regional challenges, which our countries have to face in recent years, show that the relations between Russia and the U.S. remain an important factor in ensuring stability and security of the modern world," the Russian president wrote to his American counterpart in a holiday letter. "I hope that after you assume the position of President of the United States of America we will be able – by acting in a constructive and pragmatic manner – to take real steps to restore the framework of bilateral cooperation in different areas as well as bring our level of collaboration on the international scene to a qualitatively new level."
"Please accept my sincere wishes to you and your family of sound health, happiness, wellbeing, success and all the best," Vladimir concluded.
Trump was, to all appearances, touched by Putin's missive.
"A very nice letter from Vladimir Putin; his thoughts are so correct. I hope both sides are able to live up to these thoughts, and we do not have to travel an alternate path," Trump said in a statement.
It's beginning to look a lot like Christmas (and/or a good time to buy stock in ExxonMobil).