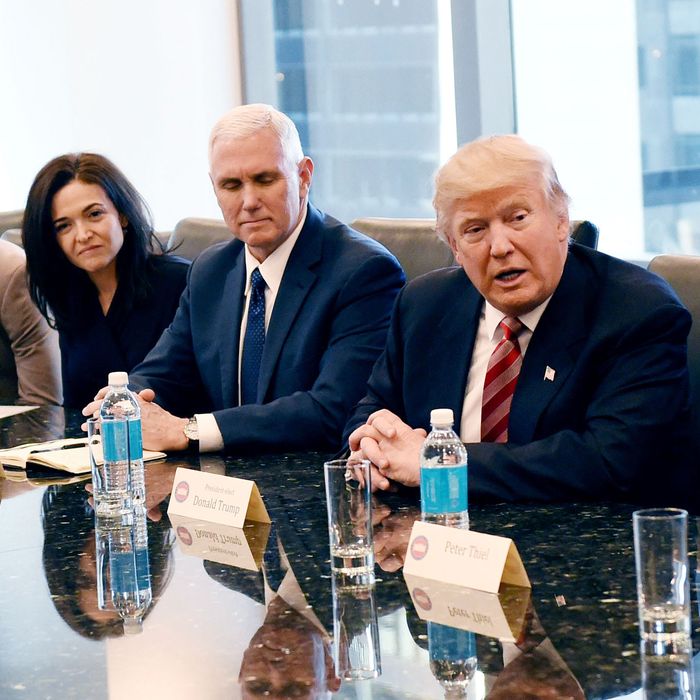 Photo: TIMOTHY A. CLARY/AFP/Getty Images
Today's summit between President-elect Donald Trump and top executives from major tech companies was dominated, oddly, by two important absences. The first was grace or finesse while handshaking (see below). The second was any representative from Twitter, the tech company most used by — and most important to — Trump himself.
During the meeting, Trump alluded to companies that called begging for an invite that weren't big enough to make it to the table — a clear dig at Twitter. "I won't tell you the hundreds of calls we've had, asking to come to this meeting," he said, "and I will say, Peter [Thiel] would sort of say, 'No, that company's too small.'"
It's an odd slight largely because, of all of the social-media platforms on "the cyber," Twitter is the one with which Trump most familiar and most infatuated. He clearly reads his timeline closely, and uses his account frequently to dispatch blustery missives, outright falsehoods, and any other nonsense that crosses his mind. This has the effect, notably, of siccing his supporters on anyone he mentions or quotes negatively.
But there's an odd cold war brewing between the president and his platform of choice. RNC spokesperson Sean Spicer apparently denied Twitter an invite because of an emoji. More specifically, the Trump campaign had hoped to buy a sponsored emoji (a bag of money with wings) for the hashtag #CrookedHillary during the campaign, but it was vetoed at the last minute by Twitter CEO Jack Dorsey. As Gary Coby, digital advertising director for the Trump campaign, outlined last month, the campaign went through a frustrating, drawn-out back and forth with Twitter last month that ended with Dorsey personally interceding. To liberals, the refusal represented a rare moment of backbone from a Silicon Valley Establishment that seemed all too happy to let falsehoods and harassment run roughshod across social media during a fraught and misinformation-heavy campaign — but it certainly didn't make Twitter any friends in the Trump camp.
The danger for Trump, though, is that Twitter controls his most used and most direct conduit to people. Multiple commentators, including Kate Knibbs at the Ringer and Farhad Manjoo at the New York Times, have pointed out that Trump's aggressive use of the service arguably violates the site's terms, which gives Twitter more than enough room to shut down his account if it's feeling bold. This is, needless to say, an unprecedented arrangement of media power and distribution — when a private company has the power to justifiably cut off the president-elect from communicating with a certain audience — and Twitter is in a unique position as the largest tech company capable of messing with the president-elect in that way. The question, really, is what would happen next — given that many people seem to regard Twitter as less of a private platform than a public utility, would Trump seek a legal remedy? Would Twitter fold under pressure? Would people depart en masse? One argument is that Twitter would benefit from taking a stand against the future president: Being the only tech company to reject Trumpism is a hell of a bragging right in a country where 2.6 million more people voted for the other candidate.
We'll have many months to see how Twitter and Trump work their issues out. For now, it doesn't look like Dorsey or his proxy missed out on much. Trump spent a lot of the meeting talking about how big and successful ("monster") the companies are and told all the CEOs to call him if they needed anything. He spoke about reducing regulation and free trade and said "if you have any ideas on that, that would be great." Everyone quietly shuffled out at the end, and Trump tweeted a photo of Bill Gates and Jim Brown.