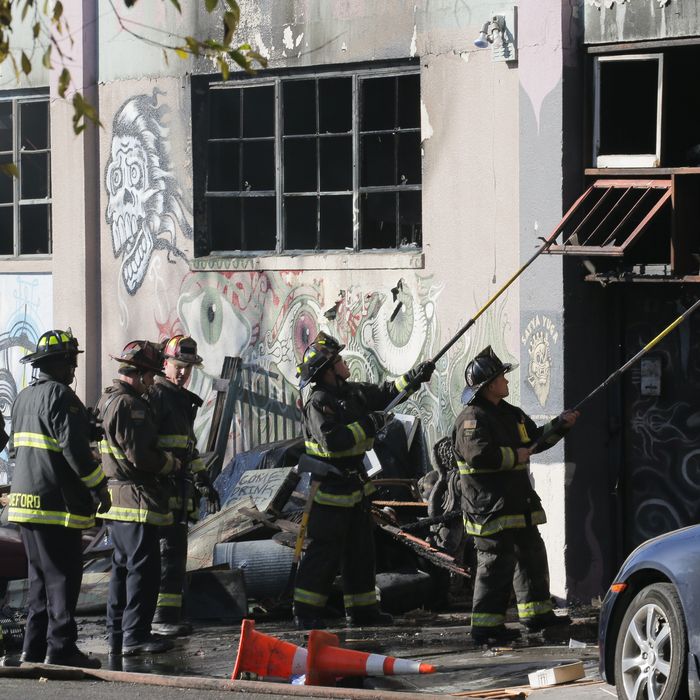 Oakland firefighters try to clear a path into the burned-out building.
Photo: Elijah Nouvelage/Getty Images
As many as 40 people may have been killed after a fire broke out during an electronic-music party at an illegally converted warehouse in Oakland, California, on Friday night. The bodies of nine people have been recovered, but while some of the people who were originally reported missing have now been found, at least 25 people remain unaccounted for as of Saturday evening. Authorities expect the confirmed death toll to rise once they are able to search the entire building, which they have been unable to do because it remains structurally unsound.
The Associated Press reports that the fire started around 11:30 p.m. on Friday during the party, which was scheduled to run from 9:00 p.m. to 4:00 a.m. The two-floor warehouse was being used as a live-in/work artist collective and performance space, but was not permitted for residency; a permit had not been issued for the party, which would have required a safety inspection. Tragically, the way the building's complex interior structure was partitioned and packed with wood and furniture by its tenants made the space into a death trap once the fire broke out. Oakland officials described the warehouse's interior as a "labyrinth" of artist studios, and the building had only two exits and no apparent sprinkler system.
Initial reports indicated that as many as 50 people were thought to have been in the building when the fire started, and someone who knew the residents told a local news reporter that nine-to-ten people lived there.

The building was referred to as the "Oakland Ghost Ship" as the interior looked like a pirate ship. The warehouse was divided up into hand-built spaces catering to artists and musicians, according to the San Francisco Chronicle. It seems that some, if not most, of the victims were trapped on the building's second floor after they were unable to escape down a narrow and complicated stairwell that was handmade out of wooden pallets. "The building itself was an art piece," one partygoer told the Chronicle. "The walls were completely covered with makeshift pieces of wood, so finding the staircase if you'd never been there before was difficult because they had built it into the wall in a certain way."
Many images of the building's elaborate interior can be seen on the space's website.
The fire and smoke was so intense that firefighters were not able to get inside the building. It also seems that metal grates were installed on some of the second-floor windows. The cause of the fire is not yet clear, but authorities have said they have no reason to suspect arson, and that "something as simple as cigarette could cause a fire that could lead to something like this," according to Alameda County sheriff's sergeant Ray Kelly. A witness said that two people on the first floor noticed a small fire burning and the situation quickly became chaotic. Authorities say there are no reports of smoke alarms having gone off in the building.
It is not clear when Oakland authorities will be able to stabilize and completely excavate the warehouse to recover and identify all the victims. In the meantime, friends and family of the missing have submitted identifying information to the Oakland coroner's office, and many in the greater Oakland community appear to be rallying to support them.
The owner of the warehouse was cited last month for a trash complaint, which led to an investigation into an illegal interior-building structure, per the East Bay Times. As an apparent part of that investigation, a government building inspector had tried to enter the building on November 17, but was unable. The Chronicle adds that there have been additional past complaints about the building and reports that a neighboring business owner says he had feared the building was a fire hazard due to the pileup of junk, wood, and debris around it. A city councilmember who lived nearby also indicated that the warehouse, which often housed parties, had "been an issue for a number of years." Authorities haven't deemed the location a crime scene — at least, yet.
One Oakland resident who had been inside the building told the Chronicle that the eclectically and densely packed interior was like a "living art installation" and the building was home to a community of "[oddball], off the grid, artsy folks." According to the Los Angeles Times, the building owner leased the warehouse to the Satya Yuga Collective, an artist collective run by a man who identified himself as Derick Ion. Ion then rented out 24-hour studios in the space, but lived in the building with his family, as did a total of at least ten people, said one former tenant. Ion's family was apparently staying at a hotel the night of the party and was unharmed. Ion's wife, Micah Allison, said she would not answer questions about the conditions inside the warehouse until after she had spoken to her lawyers. According to another former tenant who spoke with the Times, the space was a disaster waiting to happen:
Shelley Mack, who lived in the warehouse from October 2014 to February 2015, said the building had no fire alarms or fire sprinklers. Five or six mobile homes were parked inside the warehouse and were rented out, she said. At one point, residents used "an illegal hookup" to get their electricity from the building next door, said Mack, 58.

"It's a dump and a death trap," she said

Michael Rosen, who was at the party on Friday night but wasn't in the building when the fire started, described the building's interior — which a friend called "a tinderbox" — and his experience that night for the Daily Beast:

The makeshift staircase [to the second floor] was so steep that I had to plant my feet on small notches, no more than an inch high, to stop from slipping down the incline. It felt unsteady as I walked up it on Friday night to check out the party upstairs hosted by the art collective Satya Yuga, a group of artists that builds spaces for festivals like Burning Man. Up there my friends and I saw a woman getting her nails painted. There was a DJ booth, music playing, a few people dancing. Mostly, it was people just hanging out.

Downstairs, the space was packed with wooden pieces of artwork. There were wooden accents on the walls, a wooden ship's wheel. The space was subdivided into rooms with walls made of aged, dried-out wood. Chairs were scattered on the sides with Persian rugs in between them.
In a column for Oakland Magazine, Robert Gammon writes that there are probably many other converted warehouses in Oakland that could suffer a similarly horrifying fate:

Anyone who has paid attention during the past decade to Oakland's underground warehouse scene has been dreading this day. There are dozens, perhaps hundreds, of large, unsafe — and vibrant — living spaces in Oakland like the one that became engulfed in flames late Friday night, resulting in the deaths of at least nine people.

Every weekend there's an underground warehouse music show somewhere in Oakland, oftentimes, several of them. It's easy to find fliers around town advertising these shows or postings on Facebook about them. These big house parties are typically in old warehouses or other buildings that have been illegally converted into living spaces and artistic venues for musicians and artists. Inhabitants charge for these shows and use the proceeds to pay rent and buy food. They're among the last affordable places for artists and musicians in a rapidly gentrifying city. And they're integral to Oakland's DIY artistic fabric; they're key to what makes Oakland cool and why so many young people want to live here.

"But they're also death traps," Gammon laments. He goes on to point out that illegally converted warehouse spaces are a common living situation within communities of struggling and displaced artists, and he flags the boom in Oakland spaces as a result of an unacceptable lack of affordable housing in the Bay Area. Gammon is also certain that the city of Oakland will soon be under enormous pressure to shut these unsafe converted-warehouse spaces down, but hopes that city officials will also remember "that we're in an extreme housing crisis, and that closing these buildings or forcing them to come up to code will likely result in lots of people not only losing their homes and being pushed out of the city, but Oakland losing a not insignificant portion of its artistic soul."

A neighbor who spoke with a local reporter also wanted to emphasize that he thought the residents of the Oakland Ghost Ship provided a valuable service to the community:
The party being held at the warehouse was organized by a well-established Los Angeles electronic-music label named 100% Silk. The Los Angeles Times reports that label artists Golden Donna, Cherushii, and Nackt were scheduled to perform at the event as part of the label's West Coast tour, and some of the musicians seem to be listed among the missing, as are other apparently key members of the Bay Area underground scene who were at the event. 100% Silk, which was the subject of a 2013 documentary, releases electronic music on vinyl and cassettes, and has come to specialize in promoting intimate warehouse parties. The label owners said in a Facebook post that they are "utterly devastated" by the "unbelievable tragedy" in Oakland.
This post has been updated to reflect additional information from the warehouse's former tenants and details about the artist collective that leased the building.