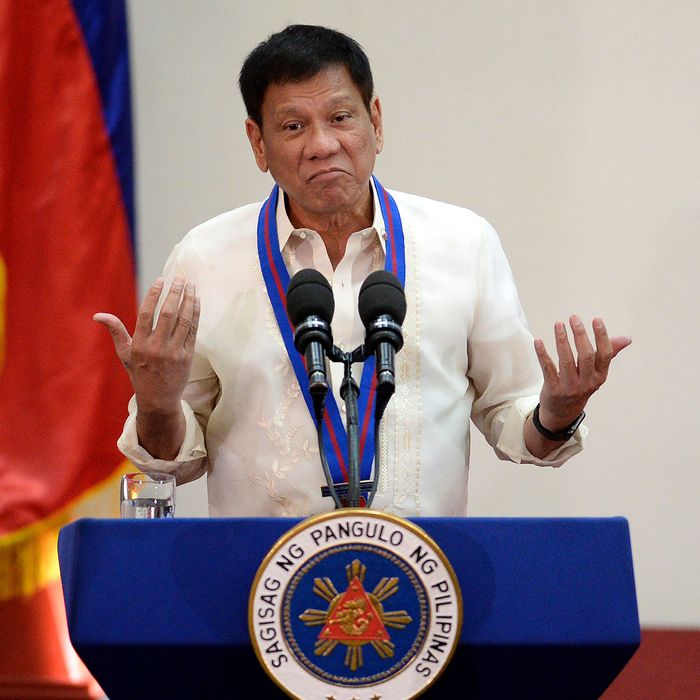 Looking for trouble.
Photo: Noel Celis/AFP/Getty Images
Before Philippines president Rodrigo Duterte took office and began encouraging citizens to kill drug dealers in the streets, he was riding around on his motorcycle doing it himself, he said in a speech Monday. The man nicknamed "Duterte Harry" was elected as mayor of his hometown Davao in 1994 and, as he tells it, had to show police what extrajudicial killing looked like.
"In Davao I used to do it personally. Just to show to the guys [police officers] that if I can do it, why can't you," he said. "And I'd go around in Davao with a motorcycle, with a big bike around, and I would just patrol the streets, looking for trouble also. I was really looking for a confrontation so I could kill."
Duterte's justice secretary, Vitaliano Aguirre II, has already tried to downplay the remarks, claiming that the president "exaggerated." As the Washington Post notes, this is how Duterte operates. He makes bold, controversial statements and then later denies them or says he wasn't to be taken seriously. Sound familiar?
Since Duterte took office on the last day of June, his "war on drugs" has killed nearly 6,000 people, with most of the murders coming at the hands of vigilantes, many of whom ride the streets looking for trouble — just like their president.