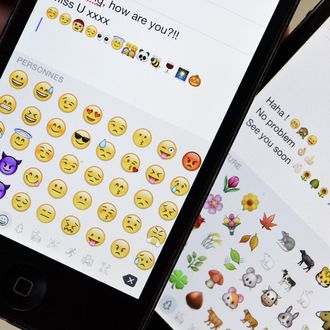 Photo: MIGUEL MEDINA/AFP/Getty Images
A London translation company, Today Translations, is looking to hire somebody who speaks fluent emoji. Think you fit that description? You'll need t0 be able to translate sentences into emoji, research international emoji meanings, and report regularly on emerging emoji trends. Salary is "competitive." Whatever that means in this brave new world where "emoji translator" is a real job.
From Today Translations:
In the absence of any native speakers, the successful candidate should be able to demonstrate a passion for emojis, combined with cutting-edge knowledge and awareness of areas of confusion and cultural/international differences. A practical test of emoji knowledge/skills may be given.
I'm sure it should be to hard to find a native emoji speaker willing to convert pictographs to words for pay. Today Translations might just need to bend a little on that bachelor's degree requirement and be open to hiring a 13-year-old if they want to find somebody who is particularly 🔥 with emoji.