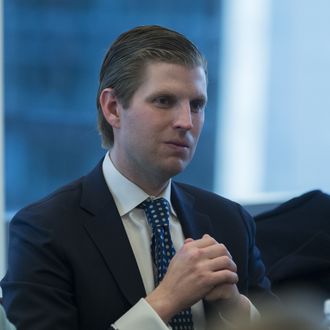 Eric Trump.
Photo: Albin Lohr-Jones/Bloomberg via Getty Images
After weeks of questions and complaints, the Trump family has taken a step toward resolving its many potential conflicts of interest. Eric Trump said that he would stop directly soliciting contributions for his charity, which supports the fight against childhood cancer. "As unfortunate as it is, I understand the quagmire," he told the New York Times. "You do a good thing that backfires."
The Eric Trump Foundation came under fire recently after its attempt to auction off a coffee date with Ivanka Trump. The event was canceled, but new concerns about the future First Family's charitable activities arose when a fundraiser linked to Eric and Donald Jr. appeared to offer access to their father on the day following his inauguration for $1 million.
The coffee date was canceled, and the Trumps distanced themselves from the charity holding the inauguration party. During the campaign, Donald Trump frequently accused Hillary Clinton of offering favors to those who donated to her family's foundation when she served as secretary of State, though she denied that.

"I get that people will try to use anything they can for their own interests," Eric Trump said. "The reality is, I've been raising money for sick kids far longer than" Donald Trump has been in politics.
Eric has been raising money for St. Jude Children's Research Hospital, which offers free care to needy children, for more than a decade. He says he's donated more than $15 million, which paid for a new intensive-care unit that opened last year. (Tax records confirm the foundation donated $6.5 million between 2008 and 2014, but the Times notes that may not include contributions from affiliated groups.)

The Eric Trump Foundation is $5 million short of fulfilling its $20 million ten-year commitment to St. Jude's, but the proposed plan is to raise the rest of that money via direct donations from guests at Trump properties. A family member said donations accepted through the properties would go straight to St. Jude's or other charities, rather than passing through a family charity first.

It's unclear if that rule applies to the Trump Foundation, Donald Trump's charity, and the president-elect still hasn't given details on how he'll avoid the many conflicts of interest presented by his business dealings.