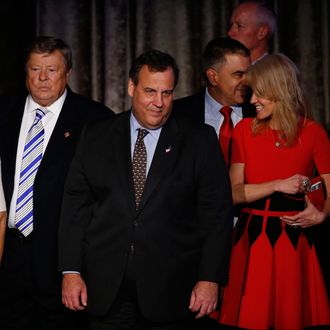 Sad!
Photo: Andrew Harrer/Bloomberg via Getty Images
Only 19 percent of New Jersey residents approve of the job Governor Chris Christie is doing, according to a new Quinnipiac University poll. It's the lowest approval rating ever recorded for a governor in the 20-year history of the university's poll.
In November 2012, after the Hurricane Sandy recovery, Christie's approval rating reached a high of 72 percent in the Quinnipiac survey. It's fallen ever since, and now there's not a single demographic in the state that approves of him. Asked to give the governor a letter grade, the majority of New Jerseyans hit him with an F.