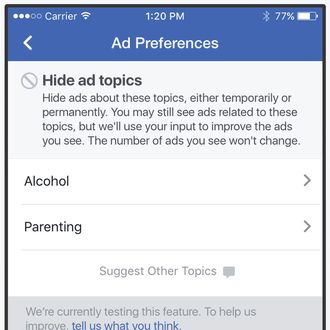 Facebook is testing letting users block certain ads.
Facebook is testing a new feature that will allow users to block advertising content that may be triggering. According to a report from Ad Age, the social-media platform is currently letting some users block ads about parenting and alcohol. "Those are the two most common topics," Facebook's Mark Rabkin told Ad Age. "For families who experience the loss of a child, to continue to see ads about parenting and new baby stuff, that can be really upsetting."
Facebook has long let users curate a list of their interests and hobbies to better direct ad preferences — if you want to feel really creeped out, you can see the entire list of things Facebook already thinks you're into here — but letting users block specific ad content is new, probably because letting users choose not to see ads isn't exactly great for business. Facebook also told Ad Age the preemptive blocking feature is part of a bigger set of changes for the company's ad-preferences system, making it simpler to use and easier to locate. Now if only Facebook could do something about making it as easy to block fake news as it is to block an ad for Coors Light.