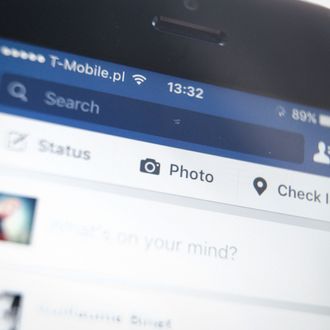 Facebook admits it undercounted Instant Article traffic for some publishers.
Photo: Jaap Arriens/NurPhoto via Getty Images
In a blog post today, Facebook disclosed the company had incorrectly calculated metrics for traffic from publishers using Instant Articles. (Content outlets publish directly to Facebook, which means it loads faster for the reader.) According to Facebook, a recent report from comScore found a discrepancy where traffic from iPhone users was being undercounted.
The issue was caused by a software update and only affected iPhone users between September 30 and November 30. Facebook has already resolved the issue and publishers have been notified. "[We] are working with comScore to produce updated estimates for the relevant time periods for the small group of partners affected." According to The Wall Street Journal, a source close to Facebook said the mistake impacted less than 1 percent of affected publisher traffic during that month. Still another source told the Journal that figure looked more like 10 to 20 percent for some publishers.
This mistake is the fourth in a series from Facebook this year, including exaggerating video views reported back in September and a skewed number of likes and reaction emoji being received on some content, as noted by Facebook earlier this month.