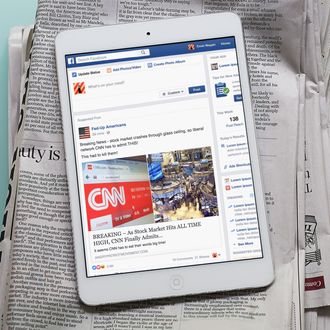 Facebook announced a new plan to combat fake news.
Photo-Illustration: Facebook, Getty Images
After weeks of scrutiny following a campaign season awash in bogus news stories being shared as genuine fact, Facebook is finally implementing a plan to crack down on the issue.
Starting today, the company is asking users to report stories (click the options in the upper right-hand corner of any post to report) they believe are fake in their News Feeds. From there, Facebook says it has teamed up with organizations from Poynter's International Fact-Checking Network like Snopes and ABC News, which will then determine if a given story is indeed a sham. Stories categorized as such will be marked so people who come across them in their timelines will — in theory — understand that the news is suspect or completely made up. "Stories that have been disputed may also appear lower in News Feed," Facebook says.
It's encouraging that Facebook is, finally, facing up to its role in the misinformation economy, but it's hard to tell if Facebook's plan will actually do much to slow or halt the spread of misinformation. People already disinclined to trust the mainstream media aren't likely to be deterred by a Facebook "disputed story" label — if anything, it might fuel them further. This makes the ad sales and algorithmic elements of Facebook's new system even more important.
Facebook says it has "eliminated the ability to spoof domains," meaning sites trafficking in pretending to be other, more legitimate websites will no longer be able to generate ad revenue. Which is, of course, much of what fake news boils down to. Disputed stories will no longer be allowed to be promoted (when an organization pays Facebook to get more eyes on its content) either. Pushing spurious stories farther down on News Feeds could be an excellent step toward crippling fake news, but only if Facebook really does it. The company's line that disputed stories "may … appear lower in News Feed" doesn't inspire a terrible amount of confidence that this will happen, or at least happen on the scale it needs to. And given Facebook's repeated insistence that it is NOT. A. MEDIA. COMPANY. it seems unlikely that they'll wade too far into the waters of truly suppressing news … even fake news. Here's hoping those warning labels do the trick.